Welcome to Your English Conversation Club!

My English Club started in 2012 as an online resource of learning and teaching materials, aimed at everybody who's interested in the subject. Children, adults, students and teachers should benefit alike from the pages of this website. It should satisfy a diversity of needs, from learning and practising English (seriously or by playing), to teaching and working with English, be it as a tutor, translator, interpreter, or of course a website designer.

It looked like a big project and, indeed it still is! However, with love for English, dedication and many hours of hard work, you and I made it possible to enjoy a growing online community of people who want to use and improve their English in a friendly and cooperative atmosphere.
Our first success:
THIRD IN GOOGLE

within the first two years!


Having taught myself how to build a website from scratch, with no previous programming experience whatsoever, I couldn't believe my eyes when I googled "My English Club" at the end of the second year of building this community and we came out third! Check it out for yourselves: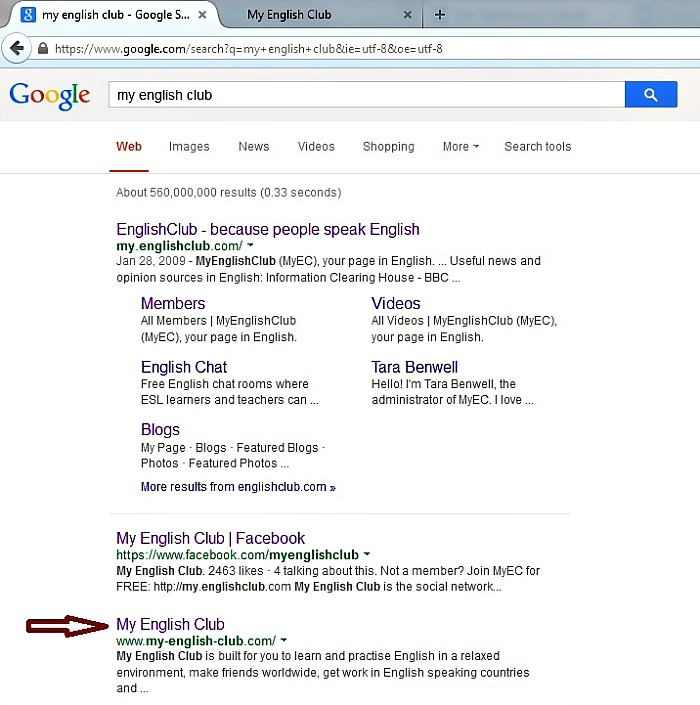 The first website on the list started 17 years ago and I believe they have a big team of people, building and maintaining it, whereas I work on our pages on my own and in my free time. There's no comparison and I do not wish to compete with them. I do wish them well and learn from them, as we speak. Nevertheless, I shall try to make our member pages more interactive, like theirs.

Nor do I wish to compete with the second one on the list, which comes through Facebook - a platform I may opt to use a bit later perhaps. Our strength, my friends, comes from your attention and your contributions. Keep at it, and I invite more friends worldwide to join.
Ready? Join My English Club, make it your club!
Our next success scheduled to start in 2015!

It is my vision that My English Club will provide a platform for worldwide events and interactive activities encouraging the creative spirit that's ready to burst and hug the world. Are you in?
In order to avoid the Social Media addiction trap, I wish to unite us on a personal basis, by visiting various locations in the world for a duration of one year - time in which we shall grow the membership of My English Club together. Are you going to invite us to your country?


The original plan, as my friends in China are aware, was for me to commence my journey in January 2015. However, since I committed to this contract with Al Yamamah University in Riyadh for one academic year, I prefer to be loyal and finish my contract. I do not like letting people down and I make sacrifices to keep my integrity high at any time.

Hence I shall postpone my trip until the summer holiday and the new starting point is July 2015.  Obviously, I shall tailor the trip according to your invitations, and I shall keep you posted here about new additions and any changes to the plan, on a regular basis.

English is to communicating

as Love is to unifying mankind.

Let us bring out the fundamental principles of inner love and wisdom and use the power of language to awaken human potential and unite those of us who are ready to create a better world for our children and future generations.

Learn English, learn Peace and learn Love

Apply all this daily and you're part of the club!