Hello,


---
Greetings and General Information
---
A warm welcome to our new subscribers! I wish you will find My English Club fun and instructive and I look forward to welcome you as a new valued member soon. Read, learn and communicate around the world!

Please feel free to contribute to these pages when you have a minute. They are meant to be a platform for exchanging ideas, stories and opinions - an ideal medium for practicing your English, which should be used to the full. Together, let's bring it alive, let's make it the welcoming community you wished for, when you joined. Use the Comments facility at the end of every page and start making friends worldwide.

You and your friends can always subscribe individually through the form on My English Club If anybody mentions to you that they are interested in receiving it, please tell them this, with thanks. Also, they can read the previous issues on Back Issues for English Corner E-zine.

Of course, you can also unsubscribe at any point, by using the link at the end of any issue of the e-zine, should you wish.

I'm sorry for the late publishing of this issue - I even thought to postpone it for tomorrow, due to work overload on the occasion of our final exams. Ah, I just finished my two sets of reports at half past one in the morning and I decided to stay up and finish this job as well, but I'll be a zombie tomorrow. Today, rather... Please hold on to your questions for a few days, if you have any :-D

OK, having said that, let's proceed with this week's lessons and we'll have a little game at the end. Enjoy!
---
Month 9 ~ Lesson 37
---
We started studying three subjects back in September 2014: pronunciation and grammar for improving your communication skills, as well as website design and development, for those advanced students of ours who would like to apply their English to building a business online.

Once we covered the basics of pronunciation, we started a new course in reading, which we finished last month (March 2015). Following some recent requests, we started a section on educational games, to add the fun into your learning. I do hope you like these.

Until I'll have the time to write my e-books from these courses, you can enjoy our past lessons for free, as follows:

Pronunciation Lessons

Reading Lessons

Grammar Lessons

Website Design Lessons

Weekly Games


---
Grammar ~ Expressing Exception
---
Last time we learnt about addition and we concluded that expressing exception would be the best point for discussion in this issue.

Exception is the opposite of addition, indicating a 'subtraction' from a total. We express it by using a number of prepositions, such as: 'except', 'except for', 'apart from', 'bar', 'but'.

A few examples are:

"None of the boys knew her secret except Tommy."
"The journey was quite pleasant, apart from the weather."
"They ate everything there was in the fridge, but the eggs."
"They ate everything there was in the fridge, bar the eggs."


If the exception is expressed in a sentence/clause, then we need to use the conjunction except that:

"The journey was quite pleasant, except that the weather was too hot."


Otherwise and else are adverbs of exception:

"The young girls were lying a lot, but otherwise (= 'apart from that') they were quite polite."
"The last exercise was too difficult, but we finished everything else in time. (= 'apart from that')


The adverb even expresses the negation of exception, normally with an effect of surprise and emphasis:

"They stole everything - even the clothes in the wardrobe!" ('not excepting the clothes in the wardrobe')

However, be very careful, as even is also closely related to the notion of addition: "He can speak several languages; he even claims to speak Chinese ('that, as well as all the others').
---
Website Design ~ Working with Search Engines
---
What are the two most important things you can do to build increasing amounts of targeted traffic to your site?

First, never stop creating high-quality content, which can bring you opportunities for top search engine (SE) rankings.

Second, start attracting "votes of confidence" in your content by bringing it to the attention of your social media fans and followers. Many of these people will link to your pages from their sites or share your content socially.

Here's what happens when you are ready to see how your pages are performing at the search engines...

Phase #1

Once I've built the home page and the first two Tier 2 pages, I had to verify the ownership of my website with the search engines, and then I submitted my sitemap to Google and Bing. If you don't do this, you may not get into a search engine's database, which means you are invisible to millions of people on the Web.

Every time you publish a page (optimized with the help of Analyze It!), your sitemap file rebuilds. SBI! then "pings" (notifies) Google and Bing once a day to let them know about any changes to your site (new pages, edited pages; for deleted pages, the engines are pinged immediately).

Phase #2

There is such a thing as the SpiderWatcher, which checks your site's log files regularly, looking to see which of the major engines' spiders have visited your pages.

Phase #3
After your page has been submitted, spidered, and listed, you need to check Search Engine HQ's Keyword Searches Report to find out the keywords and search queries for which your site and pages are ranking at the search engines. Good results tell you what's going right and give you something to build upon. Poor outcomes show you what needs to be fixed.
What's next? You guessed it! Publish more reputation-building content, both on your website and beyond it. Build a strong social media presence to spread the word about you and your business, and generate those important "social signals" for the engines.
Writing quality content for an influential blog or website, for example, not only gets you in front of that audience, it generates a rank-boosting link from the other site back to your site.
Every 3-4 weeks, take a moment to update Search Engine HQ's Keyword Ranking Report so that you can track your site's performance at the search engines. As you start to see results, you will return to check for each spider's visit and to evaluate the performance of your pages less and less often. Why will you do it less often?
Because you will be busy publishing more content, developing more trust and loyalty from your audience, and generally growing your reputation as an authority in your niche.
It may take 2-3 months for traffic to start growing, but your efforts will pay off if you have followed the Action Guide and the articles in the Tips and Techniques HQ. You will start to rank well for a few pages at one engine, and then more and more pages at different engines.
As you continue to build out your site's content and reputation, you will receive increasing volumes, month-on-month, of targeted traffic.
Working with the search engines is essential. However, while it can be useful to occasionally check how your pages are faring, do not allocate more than a half- hour per week to monitor search engine performance. Invest your time on more important tasks to serve your visitors and your business best.
Realize that you will never rank highly for all your pages at all the engines. So if you have a ranking in the Top 10 at one engine for any page, and you are happy with the Analyze It! report for that page, move on.
---
Game of the Week ~ The Sentence Game
---
I'm proud to announce that I found a more advanced game for you to practise your verb tenses in complete sentences.

They call it the Verb Machine – it is practically a machine for creating verb forms in the name of practising English. Once you go to the Sentence Game website, you'll find 3 options: Practice Mode; Tense Game and Sentence Game -> choose the last one and start the game

You will be shown a sentence and just above it you have 4 multiple choice type of questions, for you to point out the correct combination of the tense, mood and form of the verb in it. Once you're sure you've selected the right options, you need to 'submit' your choice and the machine will tell you immediately if you're right or not.

These are the rules of the game: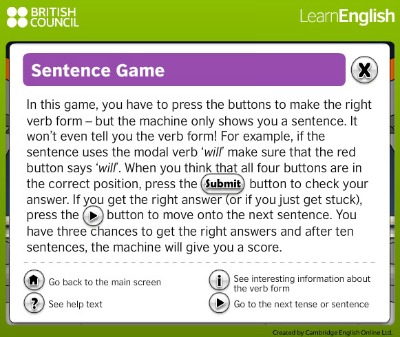 Here's an example of the choices, with the sentence below the Tense Name box: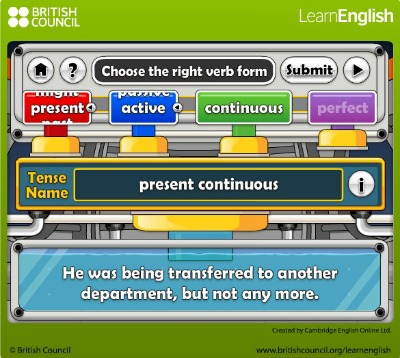 As you can see, the 'was' element in the verb indicates it's a past tense; the 'being' element indicates it is continuous; the past participle ('transferred') indicates it is a passive form of the tense, which makes it the past continuous passive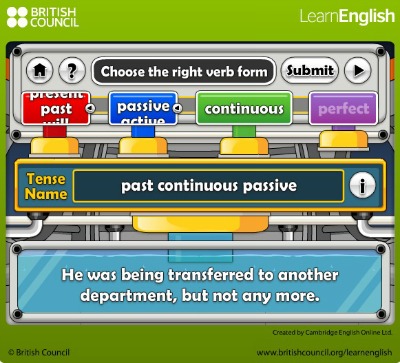 Once you're sure about your choices, you need to click the 'Submit' button and the engine will tell you straight away how right you are: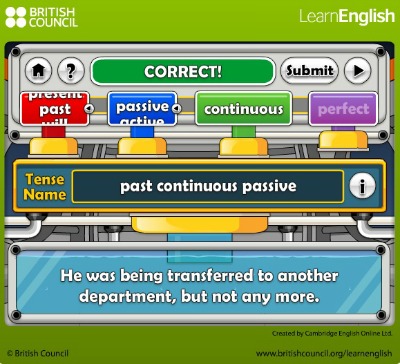 Now, again, just to show you what happens when you don't choose the right one... Let's look at this example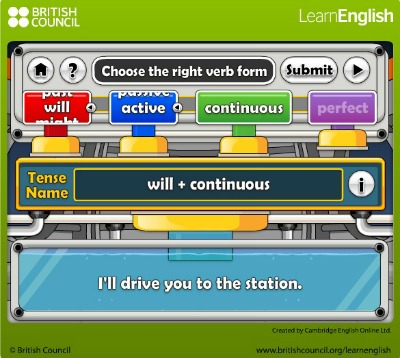 OK, above we have the verb 'drive' in the form 'I'll drive'. Let's just say that we leave the options as they are: 'will + continuous', to see what happens.

Should you want to change them, you need to click on the four buttons above the Tense Name and they lift, as you disengage them.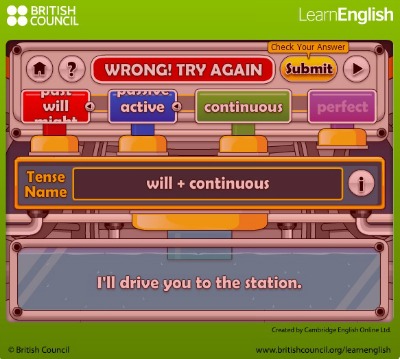 So, we're being told that it's wrong, but we're not given the correct answer. Instead, we are prompted to try our hand at it again and that's what I call good practice.

Now, let's look at some more complex verb forms: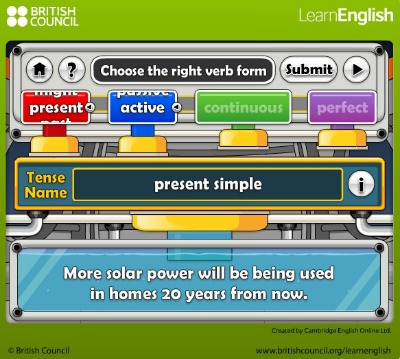 This one says 'present simple', but this is not present (given 'will'), and in no way 'simple'!

What do you think it is?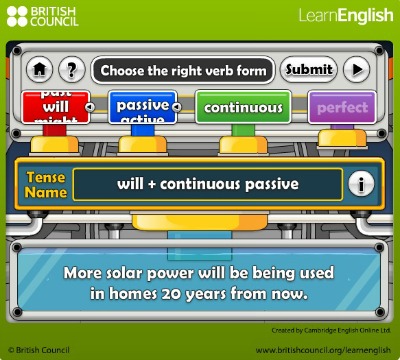 You guessed right: 'will' indicates the future tense; 'be used' indicates the passive; and 'being' indicates the continuous aspect.

Let's check: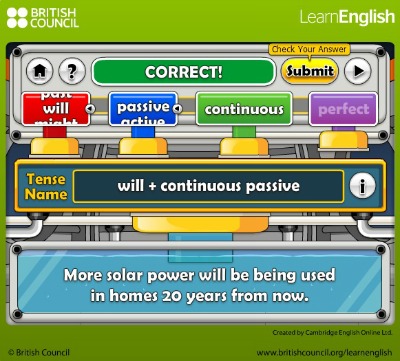 And so it goes, until you've covered 10 sentences correctly. At the end you get the points you've accumulated and a chance to play another game.

I'm so tired to end the game, that I think I'll add the end bit at a later stage.

It's your turn to play, my friends - I'm off to bed :-D
Enjoy!
---
This Is It, Folks!
---
I hope you find this information useful and not too confusing. Even though you're at the stage of building on it, have patience at this point in your learning and you'll be able to reap the fruit of your work later on, whichever aspect of our lessons you are concentrating on.

Please feel free to comment and suggest your ideas by replying to this email - I look forward to hearing from you. If you wish to chat either with me or with other members worldwide, go to My English Club .

Enjoy the rest of your week!
Have fun, as always.

Lucia da Vinci

Founder of My English Club
---