Hello,


---
Greetings and General Information
---
A warm welcome to our new subscribers! I wish you will find My English Club fun and instructive and I look forward to welcome you as a new valued member soon. Read, learn and communicate around the world!

Please feel free to contribute to these pages when you have a minute. They are meant to be a platform for exchanging ideas, stories and opinions - an ideal medium for practicing your English, which should be used to the full. Together, let's bring it alive, let's make it the welcoming community you wished for, when you joined. Use the Comments facility at the end of every page and start making friends worldwide.

You and your friends can always subscribe individually through the form on My English Club If anybody mentions to you that they are interested in receiving it, please tell them this, with thanks. Also, they can read the previous issues on Back Issues for English Corner E-zine.

Of course, you can also unsubscribe at any point, by using the link at the end of any issue of the e-zine, should you wish.

OK, having said that, let's proceed with this week's lessons and we'll have a little game at the end. Enjoy!
---
Month 9 ~ Lesson 35
---
We started studying three subjects back in September 2014: pronunciation and grammar for improving your communication skills, as well as website design and development, for those advanced students of ours who would like to apply their English to building a business online.

Once we covered the basics of pronunciation, we started a new course in reading, which we finished last month (March 2015). Following some recent requests, we started a section on educational games, to add the fun into your learning. I do hope you like these.

Until I'll have the time to write my e-books from these courses, you can enjoy our past lessons for free, as follows:

Pronunciation Lessons

Reading Lessons

Grammar Lessons

Website Design Lessons

Weekly Games


---
Grammar ~ Phrasal Verbs
---
Well, because I found the word game I'm presenting to you tonight, let me break our series of lessons for expressing various feelings, so we can use this lesson to learn about phrasal verbs.

This is a huge section of the verb category in English grammar and mastering it will need some learning. Once you get to that stage, you won't be sorry, that's a promise! Anyway, you can start with the game below.

As you know by now, in English there are many differences of vocabulary between formal and informal language. Formal English vocabulary is mostly of French, Latin and Greek origin. We can use other words and phrases, to replace these with less formal ones, mostly of Anglo-Saxon origin:
"commence" with "begin";
"continue" with "keep (up)";
"conclude" with "end":


"The class will commence at 8 a.m." formal - or
"The class will begin at 8 a.m."
"The students are continuing their quest for freedom of speech." formal
"The students are keeping up their quest ..." rather informal


Let me show you some verbs like this and their equivalents:

FORMAL ------------- INFORMAL
Or common core word -- Equivalent of the formal version
discover -------------- find out
explode --------------- blow up
encounter ------------ come across
invent ---------------- make up
enter ----------------- go in (to)
tolerate -------------- put up with
investigate ----------- look into
surrender ------------- give in

We call the combination of [a verb + a preposition] 'a phrase', hence the expression 'phrasal verb'. Now, you need to make a distinction between a phrasal verb and a prepositional verb.

'To look into', meaning 'investigate' is a phrasal verb, because 'to look' means something and 'look into' means something else. So, as you can see, adding the particle 'into' to the verb, its meaning has changed.

However, the verb 'to look at' (somebody, etc.) has the same meaning as the verb 'to look', which is the sign that this is a prepositional verb.

For a better understanding of this grammatical matter, I suggest a future lesson, in which we can also look at some examples, for clarification.
---
Website Design ~ Website Design Tools [4]
---
The last stops on our Site Central are the InfoCenter and the DownloadCenter

The InfoCenter is all about information...
• SBI! Action Guide is the written and video versions of the Action Guide, which is the SBI course I'm sharing with you here. It's the course I studied on my own, in order to write this website and others in the future.
• SBI! Forums RSS Feeds: with a one-click subscription to the "Latest SBI! Forum Posts," "Ken's Forum Posts," the "SiteSell Affiliate Program Manager's Forum Posts" and the "SiteSell Facebook Feed" I can keep informed of other SBI website writers, as well as the system's professional technical support staff.
• Tips 'n Techniques HQ: This is our one-stop center for new ideas, discoveries, strategies, SBI! Forum pearls, etc.
• Monetization HQ: a collection of ways to monetize our PREsold traffic.
• Monitor It!: Here we keep track of everything that's happening in our niche, or any other topic of interest for web design.
• Google Unified Study and Report: This is the Google report about how to recover our website's traffic and maintain it high.
• Search It! is the most valuable information search tool in the world, for managing the context of our website, blog development, links into and out of our website, etc.
• SiteSell: The Blog: Here we can find tips, information and case studies of successful SBIers.
• Resources HQ: This is the place for third-party (i.e. non-SiteSell) high-quality services, products, and resources that extend the functionality and power of SBI!.
• SiteSell Professionals HQ: This is the SBIers' personal HQ that keeps us up-to-date with the work that SiteSell Professionals can perform for us, as a service.
====================================================
And last but not least, let's visit the DownloadCenter:
This "convenience center" gives us fast access to the following SBI! E-books and resources...

• Tao of SBI! (the philosophy of the system)
• Make Your Content PREsell! (MYCPS!)
• Make Your Words Sell! (MYWS!)
• Make Your Knowledge Sell! (MYKS!)
• Make Your Price Sell! Masters Course
As self-explanatory as they are, and to put things in perspective, these materials are the equivalent of the textbooks one would study at university. So, all in all, you can see the level of support that people like me, with no previous experience in designing and writing a website, can enjoy as part of the SBI system. Not to forget the people resources and a 'family' of colleagues worldwide, always ready to share their knowledge and experience.
This is all (at this stage, at least) about the tools and the facilities one can enjoy as an SBI website designer. As from next time we shall look into how to build traffic, from a variety of sources – an activity we do in parallel to increasing the content of our website.
---
Game of the Week ~ Phrasal Verbs Game
---
Phrasal verbs may seem obvious to native English language speakers, but for learners they can be mystifying. Knowing your phrasal verbs brings you much closer to speaking fluently.

If you wish to learn some in a fun way, then you can use this game: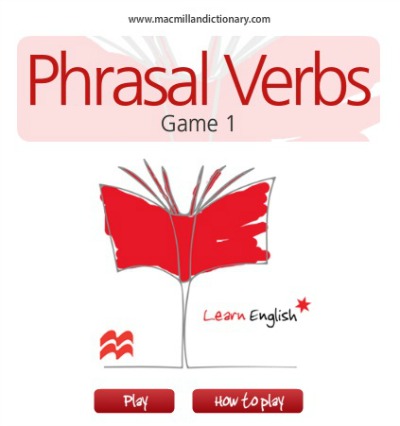 In fact there are two phrasal verbs games on this website, but let's concentrate on this one for now. In FunGrammar Phrasal Verbs1
you need to choose the correct synonym or antonym of the given word. Look at the top word, then look at the word underneath it. Then you have 2 choices:

a) If the word underneath it is a synonym, then you have to decide which of the three phrasal verbs that follow is closest in meaning to the top word and click on that.

b) If the word underneath it is an antonym, then you have to decide which of the three phrasal verbs that follow means the opposite.

You get 5 points for a correct answer, and a bonus 10 points if you click the correct answer within 5 seconds.

Now, because we only have one minute and a half in this game, and I used most of this time getting the screen shots, I couldn't earn a lot of points, but nevermind. The game is really easy. Here's the first example: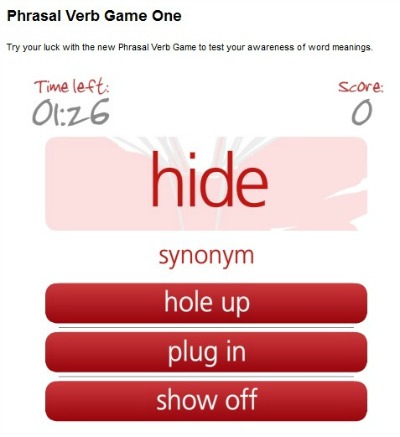 And a correct answer will be confirmed straight away:



Here's another example. You need to observe that in this one, the correct answer is an antonym for the verb 'disconnect'.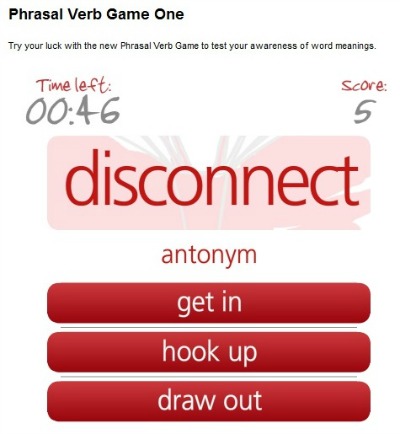 Just to show you what happens when you don't choose the right one...

Notice that you only get the correct choice in the confirmation window; you don't get to see your own choice again. In this sense, I don't particularly like the way they designed this dialogue box, because it's easy to forget what you chose as the right answer in the first place.



And to make things worse, I was even more surprised at the end, when I couldn't review any of my choices during the game – good or bad. In the games we've viewed so far, we could spend some time reviewing our choices and learning from them at the end. It's a shame this one doesn't offer the same.



Well, in any case, please risk a few minutes on it and see what you can learn nevertheless. If you persevere, you can indeed, increase your vocabulary dramatically.

Enjoy, my friends.


---
This Is It, Folks!
---
I hope you find this information useful and not too confusing. Even though you're at the stage of building on it, have patience at this point in your learning and you'll be able to reap the fruit of your work later on, whichever aspect of our lessons you are concentrating on.

Please feel free to comment and suggest your ideas by replying to this email - I look forward to hearing from you. If you wish to chat either with me or with other members worldwide, go to My English Club .

Enjoy the rest of your week!
Have fun, as always.

Lucia da Vinci

Founder of My English Club
---