Hello,


---
Greetings and General Information
---
A warm welcome to our new subscribers! I wish you will find My English Club fun and instructive and I look forward to welcome you as a new valued member soon. Read, learn and communicate around the world!

Please feel free to contribute to these pages when you have a minute. They are meant to be a platform for exchanging ideas, stories and opinions - an ideal medium for practicing your English, which should be used to the full. Together, let's bring it alive, let's make it the welcoming community you wished for, when you joined. Use the Comments facility at the end of every page and start making friends worldwide.

You and your friends can always subscribe individually through the form on My English Club If anybody mentions to you that they are interested in receiving it, please tell them this, with thanks. Also, they can read the previous issues on Back Issues for English Corner E-zine. Of course, you can also unsubscribe at any point, by using the link at the end of any issue of the e-zine, should you wish.

Now, I am fortunate to be able to send you this issue a in time today. However... given my intensive travelling since our last e-zine, you will have to excuse my inability to create a new grammar lesson for you today. Shall we all take a little break this week, from learning English grammar?

Well, without further ado, let's start our other lessons today.
---
Month 12 ~ Lesson 44
---
We started studying three subjects back in September 2014: pronunciation and grammar for improving your communication skills, as well as website design and development, for those advanced students of ours who would like to apply their English to building a business online.

Once we covered the basics of pronunciation, we started a new course in reading, which we finished last month (March 2015). Following some recent requests, we started a section on educational games, to add the fun into your learning. I do hope you like these.

Until I'll have the time to write my e-books from these courses, you can enjoy our past lessons for free, as follows:

Pronunciation Lessons

Reading Lessons

Grammar Lessons

Website Design Lessons

Weekly Games


---
Grammar ~ Practising with Frequency Adverbs
---
I wanted to prepare your exercises for the Frequency Adverbs , which I published for you last week. However, as I mentioned above, please excuse my inability to write anything on this grammatical point, in the middle of my intensive travelling. I shall make it up to you by next week!
---
Website Design ~ Building a social network in your niche
---
We have learned lately about building relationships. First, we build good quality content through C T P and then we increase our readers' trust, allowing us to deepen relationships with visitors to our site. Let's wrap up this chapter with a look at a different group of people... influencers in your niche and ones related to yours.

You need to be credible to build a personal social network and "join the club" (your niche's club). So this process is best started after you have a solid set of pages (25-30 or more), some traffic (say, 50 visitors per day) and 100+ fans and followers on the social site(s) you use. That's the bare minimum. However, the more fans and traffic you have, the better.

In your Facebook page, for example, you might remark on a sharp article you read on a blog or website. You might reply to or re-tweet a clever tweet, including their "@name" so they notice. Do not overdo it though. Sooner or later, they will notice you. And when they do...

They will check out your site and your social presence... which is why credibility is so important.

If they say "thanks for the mention, I like your site," you have opened a door. Your reply opens it a little bit more. For example, you may write something like: "That means a lot to me, coming from you. I've been living here/doing this/had a passion for this for years and was hoping that my take on it might be of interest."

Building these friendly, asking-nothing relationships is a vital part of building a business online.

Over time, you will reach a phase where bloggers will spontaneously mention something of yours that they noticed and enjoyed. Or when you have something really sharp or new coming out, you can give these folks a heads-up (contacting each individually). Some will tweet about it, or post about it on Facebook, Twitter or Google+. A couple might make a post in their blog, or even invite you to post on their blog as a guest. Whatever opportunities it leads to...

You are getting yourself and your brand in front of a wider relevant audience and attracting social signals and links to your site, totally naturally.

Compared to the offline model of taking business contacts out to dinner and drinks, or 4 hours of golf, it's a time-efficient and less expensive way of spreading your name, earning natural links and becoming one of the "thought leaders" in your niche.

It's worth the effort – why not try and see for yourself?
---
Game of the Week ~ The Verb Viper Game
---
Today I shall invite you to try your hand at the Verb Viper Game , the funniest I found for you this week. This is a language game that encourages you to choose correct verb tenses (present, past, past participle), recognize correct verb forms ('ran' instead of 'runned'), and recognize subject/verb agreement (I am, he is, etc.)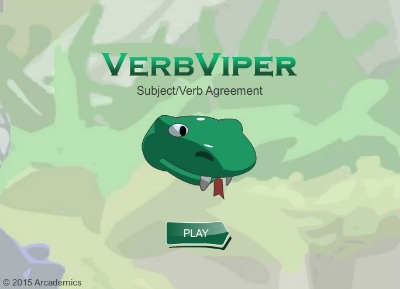 So, what's going to happen in front of your eyes?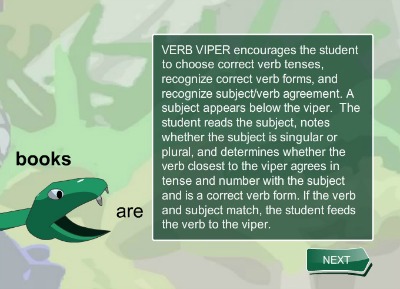 You'll see some verbs scrolling from the right to the left, going over the 'strike zone', when you have to 'shoot' them (either by pressing the space bar, or by clicking on it with your mouse, at the right time)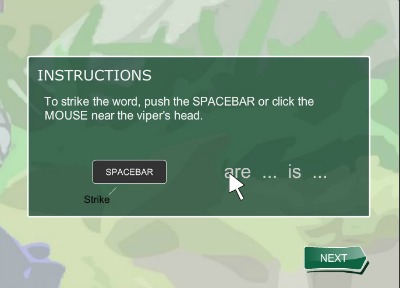 You can actually choose which verbs/tenses you wish to practise, as well as the speed you want to challenge yourself with.



OK, you have ONE minute to finish striking all the correct verbs, but be warned... they will keep bombarding you, whether you catch them or not!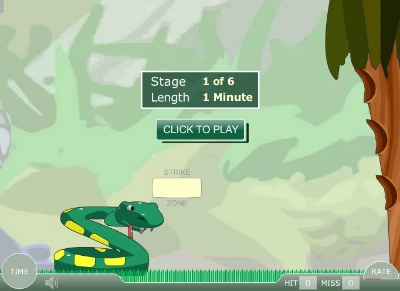 The structure of your subject/verb combination is going to be as follows:
- you'll have the subject on the left, in front of the strike zone, but be careful, the subject changes automatically after you shoot/miss any verb;
- the verbs will continue to scroll in a line, towards the strike zone: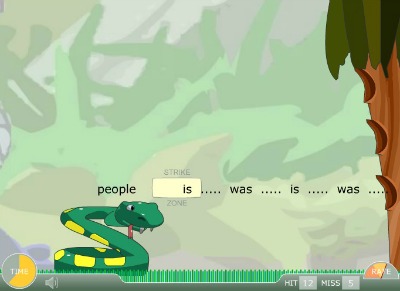 At the end of the game, the screen will freeze, stating the stage is complete, and you will get a counter with your hit and missed turns: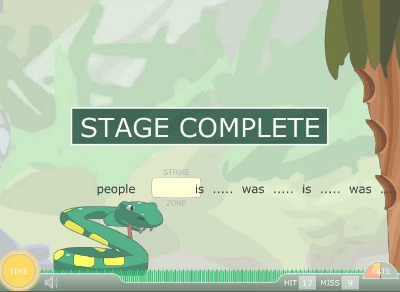 No matter how well or badly you do during each game, you'll get your accuracy and the rate per minute, with which you shot your verbs.

An unexpected bonus with this system is that you also get the correct answers for the missed examples, should you have any.

After you've inspected your results (I suggest take your time and learn from your mistakes, until you eliminate all of them), you will have a chance to go to the next level, or to select a different option on the Main Menu.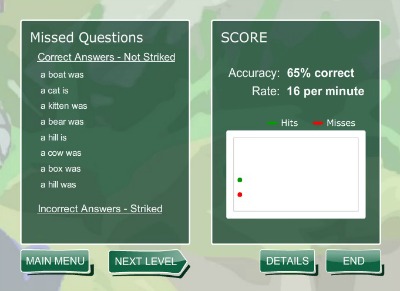 The game designers, Arcademics, are even offering a graph of your hit and misses - fancy that!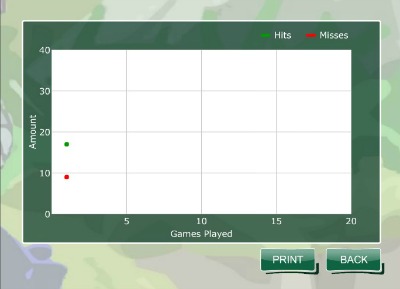 So, now it's your turn. I found it hard to catch all the verbs in time, but that's more because I was trying to copy the screen pics for this 'lesson'.

You have a go - try to shoot those verbs in time and correctly and I'm sure you'll do better than my present game. Go ahead, enjoy playing the Verb Viper Game :-D


---
This Is It, Folks!
---
I hope you find this information useful and not too confusing. Even though you're at the stage of building on it, have patience at this point in your learning and you'll be able to reap the fruit of your work later on, whichever aspect of our lessons you are concentrating on.

Please feel free to comment and suggest your ideas by replying to this email - I look forward to hearing from you. If you wish to chat either with me or with other members worldwide, go to My English Club .

Everybody, have a great summer holiday and a good week ahead, those of you who need to keep working for now!


All the best from me, until next time,

Lucia da Vinci

Founder of My English Club
---