Hello,


---
Greetings and General Information
---
A warm welcome to our new subscribers! I wish you will find My English Club fun and instructive and I look forward to welcome you as a new valued member soon. Read, learn and communicate around the world!

Please feel free to contribute to these pages when you have a minute. They are meant to be a platform for exchanging ideas, stories and opinions - an ideal medium for practicing your English, which should be used to the full. Together, let's bring it alive, let's make it the welcoming community you wished for, when you joined. Use the Comments facility at the end of every page and start making friends worldwide.

You and your friends can always subscribe individually through the form on My English Club If anybody mentions to you that they are interested in receiving it, please tell them this, with thanks. Also, they can read the previous issues on Back Issues for English Corner E-zine. Of course, you can also unsubscribe at any point, by using the link at the end of any issue of the e-zine, should you wish.

Now, I am fortunate to be able to send you this issue a in time today. However... given my intensive travelling since our last e-zine, you will have to excuse my inability to create a new grammar lesson for you today. Shall we all take a little break this week, from learning English grammar?

Well, without further ado, let's start our other lessons today.
Month 13 ~ Lesson 48
---
We started studying three subjects back in September 2014: pronunciation and grammar for improving your communication skills, as well as website design and development, for those advanced students of ours who would like to apply their English to building a business online.

Once we covered the basics of pronunciation, we started a new course in reading, which we finished in March 2015. Following some requests at that time, we started a section on educational games, to add the fun into your learning. I do hope you like these.
Announcement
Please note that we are also approaching the end of the course in website design by the end of August 2015, as planned. There are requests for a new course in writing skills, like we had the one in reading. Please feel free to send in your requests all along the month of August, just in case you have different preferences. I look forward to receive your comments - just reply to the email you receive from My English Club.

Until I'll have the time to write my e-books from these courses, you can enjoy our past lessons for free, as follows:


---
Pronunciation Lessons

Reading Lessons

Grammar Lessons

Website Design Lessons

Weekly Games

---
Grammar ~ Present Simple vs. Present Continuous
---

Today we change our grammar lesson topic - let me direct you towards: Present Simple , as well as Present Continuous . On these two pages you will find the theory behind these two verb tenses and an exercise (note: this is the same on each page).

For you to do this exercise correctly you need to make sure that you understand the instruction correctly and that you master this grammar point satisfactorily.
---
Website Design ~ Monitoring "Backup Response" Traffic
---

Monitoring "backup response" traffic means keeping track of responses to your e-zine, contact forms and other social signals you insert on your website.

Click-INs occur when people click on an OFF-site link and come in to your site and you monitor these by creating a special tracking link for each OFF-site link that you want to track, in the Tracker Library which is different than the Link Library, which is full of URLs heading out of your site.

Here are just a few types of promotions that you should be tracking...

• Each Pay-Per-Click ("PPC") advertising campaign (ex., when you buy ads to sell your products or services).
• Promotional ads in e-zines.
• The links to your site in a free e-book.
• Offline efforts (newspaper ads, flyers and leaflets, business cards, even bulletin board ads at your local post office, grocery store, health club, golf club, etc.).
• Clicks on the link to your site in your signature (i.e., the short message added to the end of email messages, after your name).


The "ultimate destination" does not have to be your site. Use tracking links to track Click-INs to your affiliate merchant-partner's site or to an OFF-site order page (ex., ClickBank order page for your e-book).

Possible Ultimate Destinations

So far, we've talked about tracking different origins of tracking links (i.e., OFF-site starting points such as e-zine ads). We have assumed (mostly) that the ultimate destination of those OFF-site links is to your site. Not necessarily!

Let's examine possible ultimate destinations, and when you might use each...

1. Your Site
2. Your (Affiliate) Merchant-Partner
3. A Free Download
4. Your Online Store


Here's how to get your click-IN data...

In the Click Data part of the TrafficCenter, select the Click IN Data radio button. Then select the date range (from the Day - Month - Year drop-down menus) for which you want click data. Then click on the Show Me Data button, which I showed you last time remember?




Now, from next time and for the duration of the month of August, we shall look into the monetization issue again and this will end our web design lessons, as I planned back in September last year. I imparted this course to the readers of this e-zine, from the SBI course I studied in order to build this website.

I would love it if there could be anybody announcing they took these lessons on board seriously and are ready to apply them in their own business. Please let me know, those of you who wish to venture on this road – I'd like to hear from you.


---
Game of the Week ~ The Dune Buggy Dash Game
---

Today I shall invite you to try your hand at the Dune Buggy Dash Game , which is more a game of dexterity than anything else, although it will be useful to those students who are learning the parts of the body at the moment.

Well, in today's game, you will have to chase and hit the correct words (those denoting parts of the body) while avoiding all the rest.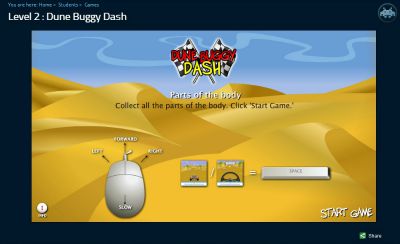 The rules will be given before you start the game. Your timing will be revealed at the end, as you will have control over your speed, hence prolonging or shortening the duration of your game.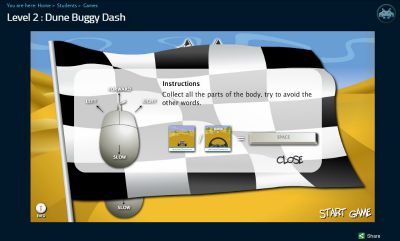 Once you're 'in the know' about what you're doing and ready to go... you get the "GO!" signal:



Another thing you need to keep in mind is that you need to keep the mouse on the game screen. If you take it out of the area, it will no longer respect your maneuvering.

This is how your words will appear on the road: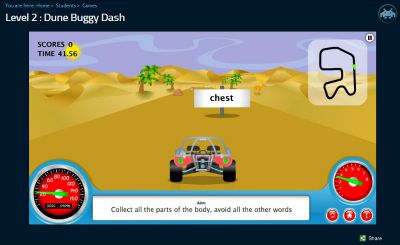 Once you hit a good word (parts of the body), you gain 100 points. If you hit another word, you lose 50 points.


Depending on how experienced you are in this kind of games, unlike me..., you can also follow your circuit map in the top right corner of the screen.
If you can't, you'll soon know when you reach the 'Finish' line:



At that point, your points and bonus time will be revealed and you also receive some bonus points, depending on how well you do during the game.

Clicking on the 'Continue' button will start another game.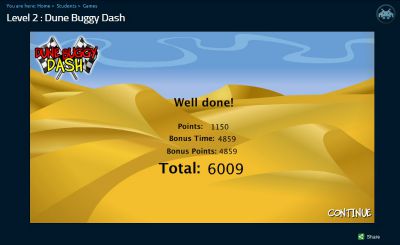 Go ahead, play the Dune Buggy Dash Game ... show your kids how fun it is to learn new vocabulary :-D
---
This is it for now, my friends!
---
I hope you find this information useful and not too confusing. Even though you're at the stage of building on it, have patience at this point in your learning and you'll be able to reap the fruit of your work later on, whichever aspect of our lessons you are concentrating on.

Please feel free to comment and suggest your ideas by replying to this email - I look forward to hearing from you. If you wish to chat either with me or with other members worldwide, go to My English Club .

Everybody, have a great summer holiday and a good week ahead, those of you who need to keep working for now!


All the best from me, until next time,

Lucia da Vinci

Founder of My English Club
---