Hello,


---
Greetings and General Information
---
A warm welcome to our new subscribers! I wish you will find My English Club fun and instructive and I look forward to welcome you as a new valued member soon. Read, learn and communicate around the world!

Please feel free to contribute to these pages when you have a minute. They are meant to be a platform for exchanging ideas, stories and opinions - an ideal medium for practicing your English, which should be used to the full. Together, let's bring it alive, let's make it the welcoming community you wished for, when you joined. Use the Comments facility at the end of every page and start making friends worldwide.

You and your friends can always subscribe individually through the form on My English Club If anybody mentions to you that they are interested in receiving it, please tell them this, with thanks. Also, they can read the previous issues on Back Issues for English Corner E-zine. Of course, you can also unsubscribe at any point, by using the link at the end of any issue of the e-zine, should you wish.

Now, let me send you this issue a day in advance, as I'm traveling non-stop for the following days, until I arrive at my home on Thursday, and I cannot guarantee good Internet connection tomorrow evening.

I also wish to let you know that I started to add (little by little) my traveling experiences to this website. You can start catching up with me on Global Networking , as long as you accept that the pages are still a work in progress and that I shall add and change content, as I go along. It's all part of the creative writing effort and I have way less time for this than I anticipated before starting. I hope you enjoy reading and I look forward to receiving your comments in the dialogue boxes at the end of each page.

Without further ado, let's start our lessons today, as I need to travel in 4 hours' time - at 4am...
---
Month 11 ~ Lesson 43
---
We started studying three subjects back in September 2014: pronunciation and grammar for improving your communication skills, as well as website design and development, for those advanced students of ours who would like to apply their English to building a business online.

Once we covered the basics of pronunciation, we started a new course in reading, which we finished last month (March 2015). Following some recent requests, we started a section on educational games, to add the fun into your learning. I do hope you like these.

Until I'll have the time to write my e-books from these courses, you can enjoy our past lessons for free, as follows:

Pronunciation Lessons

Reading Lessons

Grammar Lessons

Website Design Lessons

Weekly Games


---
Grammar ~ Practising with Frequency Adverbs
---
We are now starting to practise the lessons from our past e-zines. I'm going to prepare a separate page on this website for each concept, and include some exercises for you to practice with. The only problem today, is that I'm sending this issue prematurely, so I didn't have the time to write the exercise. However, I shall try to add it tomorrow, if I have Internet access in Oslo.

Today we shall deal with Frequency Adverbs - I hope you find it useful.
---
Website Design ~ Publishing an E-zine
---
We talked about Blog It! before last time, when we looked into Form Build It! (FBI!). Today we turn to e-zines, which are another form of establishing good relationships with your readers.

An e-zine is an emailed newsletter and it is another Backup Response, one that does an excellent job of nurturing the relationship you have with a portion of your visitors. An e-zine lets you visit your visitors. It reminds them about you, and it gives them reasons to return to your site. Possibilities include newsletters that deliver one or more of the following...

• new info about your site (the easiest model to create/maintain)
• new product/service introductions/upgrade announcements
• brand new content exclusive to subscribers (this is the hardest model, since it involves creating new content, but it may make sense if subscribers are prospective clients for your high-priced service)


It all starts with content. The goal of your newsletter is to deepen the P in C T P M. Build likeability and trust. Nurture a great relationship with customers and prospects. There is no better way to keep in touch with your customers (current and potential) on a regular basis.

Provide what your subscribers want to read, not what you want to write about. Make them look forward to receiving the next issue! A bit like what I'm doing with you, I hope…

As a service provider, your e-zine must contain excellent content!

If you are a service provider, an e-zine is a must. The better your e-zine, the more you impress people with your expertise and ability to deliver. Solid content is always important, of course. But if you are selling a service online, it's absolutely critical.

Yes, in order to get the MWR (Most Wanted Response), you do first have to give great content.

"Give, then get." Always tie e-zine content back to your MWR with a call to action. Be "gentle." Be creative. But don't be shy. Provide excellent content, then ask. Also, do not be shy about doing some "selling" to get the M. Each issue should directly increase your chances of getting your MWR. As long as you "take" with class and subtlety, your reader/prospect won't object. If he does object, he will never be a customer.

SBI!'s MailOut Manager is a simple, efficient way to build a following and deepen a relationship, a simple way to run a promotion or offer a product or service. Once you have a few thousand active email addresses on your list, the potential to monetize through email marketing becomes much greater, but at this point, you may need the advanced functionality of email services like MailChimp or AWeber...

When you're ready to build your zine with the SBI system, there is an online help facility called MailOut Manager, to get you started. Also, the e-zine forum is another source of ideas, tips and advice.

This is as deep as we can afford to go into this topic right now, and next time we shall look into building a personal social network with influencers in your niche.
---
Game of the Week ~ Buzzing Bees
---
Right my friends, the first game I found for you was really difficult, so I tried for another one & here it is: the Buzzing Bees game, just for the fun of it. If you find it too easy, let your children have a go and just supervise that they know the meaning of each word. It comes from the Cambridge University Press website, where it is classed as a level 2 game, that is beginner's level, almost pre-intermediate.



This is a vocabulary game in which you will have to separate two groups of words that keep flying around on the screen into two beehives – one for 'senses' on the left and another one for 'parts of body' on the right.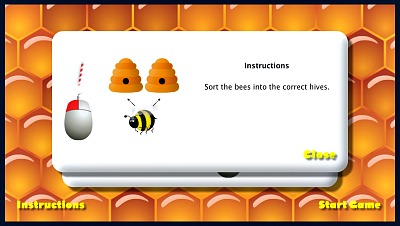 So, you'll see the bees flying around, carrying some flashcards with the words on them and you need to use the computer mouse to 'shoot' the bee RIGHT in front of the correct hive, for it to go in and lodge the word.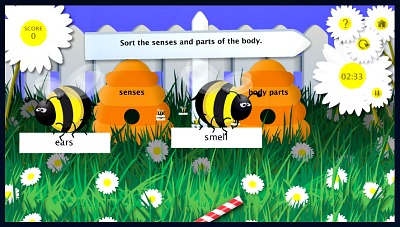 OK, you do have 2min 40seconds to finish lodging all the words , but just in case you/your child can't manage, this is what's going to happen – you'll be given your score and you'll be invited to try again.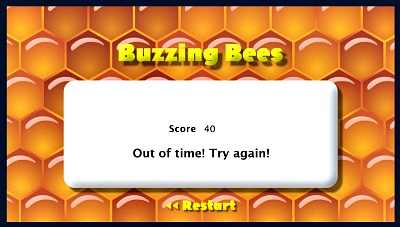 However, if you do get to the end successfully, you'll get a great pat on the shoulder, on top of your score.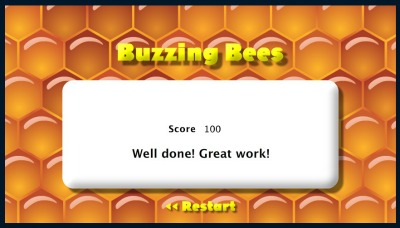 So, now it's your turn. If you think it's too easy in terms of the vocabulary, try to see if you catch the little bees and classify those words correctly. Go ahead, enjoy playing the Buzzing Bees game :-D


---
This Is It, Folks!
---
I hope you find this information useful and not too confusing. Even though you're at the stage of building on it, have patience at this point in your learning and you'll be able to reap the fruit of your work later on, whichever aspect of our lessons you are concentrating on.

Please feel free to comment and suggest your ideas by replying to this email - I look forward to hearing from you. If you wish to chat either with me or with other members worldwide, go to My English Club .

Everybody, have a great summer holiday and a good week ahead, those of you who need to keep working for now!


All the best from me, until next time,

Lucia da Vinci

Founder of My English Club
---