Hello,


---
Greetings and General Information
---
A warm welcome to our new subscribers! I wish you will find My English Club fun and instructive and I look forward to welcome you as a new valued member soon. Read, learn and communicate around the world!

Please feel free to contribute to these pages when you have a minute. They are meant to be a platform for exchanging ideas, stories and opinions - an ideal medium for practicing your English, which should be used to the full. Together, let's bring it alive, let's make it the welcoming community you wished for, when you joined. Use the Comments facility at the end of every page and start making friends worldwide.

You and your friends can always subscribe individually through the form on My English Club If anybody mentions to you that they are interested in receiving it, please tell them this - many thanks. Also, they can read the previous issues on Back Issues for English Corner E-zine.
Announcement
The voting on our 'Game a Week' section is up and the result is that the majority of you wish to keep the website design. I'm really glad to see this, it means we shall probably have some more websites built by our club members - that would be just awesome!

One more announcement to make: perhaps you realised by now that the font on the website and the buttons changed a little bit. I made it bigger, after I received a notification from Google, saying they found so many errors on my website, when viewed on a mobile phone... all due to the font being too small. I had to enlarge it, but I couldn't do the text and the links in the right column of the website and I don't know yet how to make the font of the e-zine larger than it is. Give me some time and it will all improve soon - have some patience with me, I'm learning :-)

OK, having said that, let's proceed with our present lessons and we'll have this week's game at the end. Enjoy!
---
Month 7 ~ Lesson 29
---
We started studying three subjects back in September 2014: pronunciation and grammar for improving your communication skills, as well as website design and development, for applying your English in practice once you get skilful in English and website building.

Once we covered the basics of pronunciation, we started a new course in reading, which we finished a couple of weeks ago. Following some recent requests, we started a section on learning games, to add the fun into your learning. I do hope you like it - enjoy.

Until I shall have the time to create my planned e-books from these courses, you can find our past lessons for free, as follows:


Pronunciation:
Issue 016 - The NAMES and SOUNDS of the Letters
Issue 017 - Short/Long Vowel Sounds & CVCs
Issue 019 - CCVCs and CVCCs
Issue 020 - Digraphs and Silent Letters
Issue 021 - Sight Words (or Dolch Words)
Issue 022 - Long Vowel Sounds
Issue 023 - The R-Controlled Vowel Sounds
Issue 024 - Vowel and Consonant Contrasts

Reading:
Issue 025 - An Introduction
Issue 026 - The Basic "Ingredients" of a Reading Programme
Issue 027 - Word Recognition
Issue 028 - Understanding Meaning in Context [1]
Issue 029 - Understanding Meaning in Context [2]
Issue 030 - Understanding Meaning in Context [3]
Issue 031 - Enlarging Your Vocabulary (Beginner)
Issue 032 - Vocabulary Games Online
Issue 033 - Traditional Vocabulary Games
Issue 034 - Understanding Vocabulary from Context [TOEFL Skill 1]
Issue 035 - Recognizing Referents [TOEFL Skill 2]
Issue 036 - Simplifying Meanings in Sentences [TOEFL Skill 3]
Issue 037 - Inserting Sentences into the Passage [TOEFL Skill 4]
Issue 038 - Finding Factual Information [TOEFL Skill 5]
Issue 039 - Understanding Negative Facts [TOEFL Skill 6]
Issue 040 - Making Inferences from Stated Facts [TOEFL Skill 7]
Issue 041 - Inferring Rhetorical Purpose[TOEFL Skill 8]
Issue 042 - Selecting Summary Information [TOEFL Skill 9]
Issue 043 - Completing Schematic Tables [TOEFL Skill 10]

Communicative Grammar:
Issue 016 - CAUSE and EFFECT
Issue 017 - Comparison of Adjectives
Issue 019 - Comparison of Adverbs
Issue 020 - Special Cases of Comparison
Issue 021 - Comparison Clauses vs. Comparison Phrases
Issue 022 - Restrictive and Non-Restrictive Meaning
Issue 023 - Expressions of Frequency
Issue 024 - Using Grammar for Speaking/Writing
Issue 025 - Linking Signals and their Functions [1]
Issue 026 - Linking Signals and their Functions [2]
Issue 027 - Linking Signals and their Functions [3]
Issue 028 - Linking Sentences [1] (Types of linking)
Issue 029 - Linking Sentences [2] (Time, cause/reason/result)
Issue 030 - Linking Sentences [3] (Conditions)
Issue 031 - Linking Sentences [4] (Additions)
Issue 032 - Relative Clauses
Issue 033 - Grammar with Fun!
Issue 034 - Participle and Verbless Clauses
Issue 035 - Cross-Reference and Omission
Issue 036 - Presenting and Focusing Information
Issue 037 - Pieces of Information
Issue 038 - Dividing Messages into Tone Units
Issue 039 - Expressing Moods, Emotions and Attitude
Issue 040 - Stress on Emotions in Communication
Issue 041 - Emphatic 'So' and 'Such'
Issue 042 - Emphasising Emotions in Speech
Issue 043 - Intensifying Adverbs and Modifiers
Issue 044 - Intensification of questions and negatives

Website Design and Building:
Issue 016 - The Basic Concepts
Issue 017 - Content vs. Monetize
Issue 019 - PREselling vs. Selling
Issue 020 - Developing a Site Concept
Issue 021 - Choosing Your Site Concept
Issue 022 - Choosing Your Niche
Issue 023 - Real Supply and Value Demand
Issue 024 - The Filter Tool - Phase 1
Issue 025 - The Filter Tool - Phase 2
Issue 026 - The "Depth" of a Website
Issue 027 - Evaluate 7 factors for each Site Concept
Issue 028 - Profitability vs. Monetization
Issue 029 - The Site Content Blueprint
Issue 030 - Lateral Brainstorm
Issue 031 - Designing your Site Content Blueprint
Issue 032 - Checking Profitability with Pre-Set Tasks
Issue 033 - Finish your Site Content Blueprint
Issue 034 - Investigate and Plan Monetization Options
Issue 035 - Monetizating with AdSense
Issue 036 - What Exactly Is AdSense?
Issue 037 - The Most Wanted Response (MWR)
Issue 038 - Credit Card and Payment Processing
Issue 039 - Monetizing Forum Topics in SBI
Issue 040 - Finalizing Your Monetization Mix
Issue 041 - Before Registering a Domain Name
Issue 042 - Preparing Domain Registration
Issue 043 - Registering Your Domain
Issue 044 - Building a Successful Website

Game of the Week:
Issue 044 - Countable & Uncountable Nouns


---
Grammar ~ Exclamatory and Rhetorical Questions
---
Last week we learnt how to intensify questions and negatives, in order to express emotions. Today we shall continue this topic, by looking at exclamations meant as questions, but not just any kind of questions – rhetorical questions. This is more like a forceful statement than an exclamation and the speaker vigorously invites the listener's agreement:

"Hasn't she gròwn!" ("She's grown very, very much!")
"Wasn't it a marvellous pàrty!"


The effect is similar to saying: "It was a marvellous pàrty, wàsn't it?"

Notice the accent is downward, as if this is a statement, not a question. Or, for my students who know the difference in tone between a 'yes-no' question (finishing in an upward tone) and a 'wh-' question (finishing in a downward tone), these rhetorical questions are more like a 'wh-' questions, OK?

Usually, we have a negative form of exclamatory question, but sometimes we can come across this type of questions in positive form, with stress on the operator and subject:

" `Am `I hùngry!" (= "I'm very hungry.")
" `Did `he look annòyed!"
" `Has `she gròwn!"


In order to understand native speakers better, you should know this:
- A positive rhetorical question is like a strong negative statement;
- A negative rhetorical question is like a strong positive statement.


Positive: "Is that a reason for divórce?
(= "Surely that is not a reason for divorce.")


Negative: "Didn't I tèll you he would forgét?"
(= "You know I told you he would forget.")


There are also rhetorical wh-questions:

"What dìfference does it make?" (= "It makes no difference.")
"Who doesn't know thàt?" (= "Everyone knows that!")


The simple way for understanding rhetorical is that it is a question to which no answer is necessary – the speaker is not actually asking for new information, but (s)he simply expresses a feeling.

I hope you didn't find this lesson very difficult. Some of you may have learnt about these things at school, others may see this for the first time. However, I doubt that any of you haven't noticed this kind of language in films, right? Well, now you don't have any excuse for not using it correctly, but you need to practice a little first.

Next time we shall consider another rather complicated matter: describing emotions and the correct prepositions we need to use for this.
---
Website Design ~ Planning Your Website Structure
---
This is a very schematic lesson on how to plan your site's structure and content pyramid-style. As you can imagine, there is a lot to learn about the concepts I'll give you below, but the SBI system comes with all the information and each website owner then takes his/her time to learn and apply the details in their own time. I am also still learning, but I can share this with you:

Think Pyramid when planning the structure of your site. The easiest way to begin site construction is by first visualizing the end result. See your theme-based content site as a pyramid...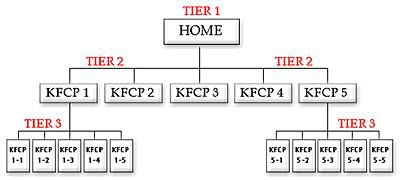 TIER 1... The Home Page
The home page crowns the pinnacle. It's a Keyword-Focused Content Page ("KFCP") that focuses on your Site Concept keyword. Your home page should never link out of your site -- it's too early. (The only possible exception would be for Google AdSense or other ads that "make it worth your while.")
The home page's No. 1 job is to link down to 5-15 KFCPs. These are your TIER 2 pages.
TIER 2... The Hubs
They are called TIER 2 pages because they are on a second TIER below the home page. Each TIER 2 page should...
• be a good "hub" page, working well as both a good link from the home page, as well as naturally linking to several TIER 3 pages (which are related but more specific in nature, often a subset of the TIER 2 page).
• focus on a keyword that has a high profitability score.
• fit with your monetization plans.
Links on TIER 2 pages can go in four different directions...

1. Links Down: Link to related TIER 3 pages, which makes the home of the bulk of your content;
2. Links Up: Link back up to the home page. This provides both the human visitor and the SE spider with added value. Every TIER 2 should have the above two types of text links. The next two are optional, according to circumstances.
3. Links to Money: Link to a page for a monetization option;
4. Links Out: Link to outstanding, related, but non-competing content authorities in your niche, for extra credibility. Three quality outgoing links from TIER 2s are enough.

TIER 3... The Leaves on the Tree
If your home page (TIER 1) is the tree trunk, TIER 2s are the branches. TIER 3s are the vast majority of pages, the leaves that actually make up most of your site's content. Make sure that every TIER 3 can be reached by a link from a TIER 2. And link back up from your TIER 3 to its TIER 2, and the TIER 1 (your home page). You should put some text links at the bottom of each page for this.
The net result is a clean, 3-TIER approach that yields an easy, navigable site for both your visitors and the Search Engine spiders. Your TIER 2s are only one click away from your home page. And it takes 2 clicks to get from your home page to any TIER 3 (requiring a visit to a TIER 2 in transit).
As the spiders gather up your TIER 1, 2, and 3 pages, the computer programs that analyze them are getting smarter and smarter... and more theme-focused.
This lesson was about the structure of a website and next time we shall look into the content of your site as a yramid in our next lesson.
---
Game of the Week ~ Free Rice - My Favourite Games!
---
This is my favourite game, I must admit, not so much because it's great and versatile, covering not just English vocabulary and grammar, as you will see, but because it helps poor people in the world. By playing, you're actually feeding some needy people – think about it.

You can find a great selection of games on Free Rice You can play on your own, or you can make it a mission to donate the rice, by playing in teams. In fact I'm thinking to create a group for my class next term, which conveniently starts this Sunday and let's see how much we can achieve. This would be great homework and I could quantify it in grains of rice.

Without further ado, let's play Free Rice!

Now, you get to the home page of Free Rice and, if you don't automatically have a word and four choices of synonyms, then you need to select your subject as 'English Vocabulary' from the 'Change Subject' button at the top right corner of your playing board: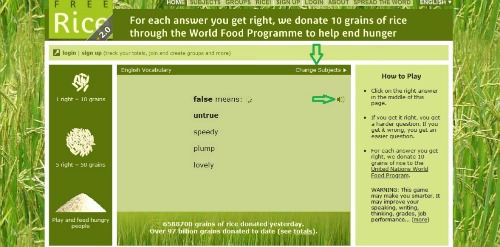 Please also notice the loudspeaker symbol, which is useful if you want to listen to the pronunciation of the word you need to play.

You will be able to select from quite a wide range of subjects: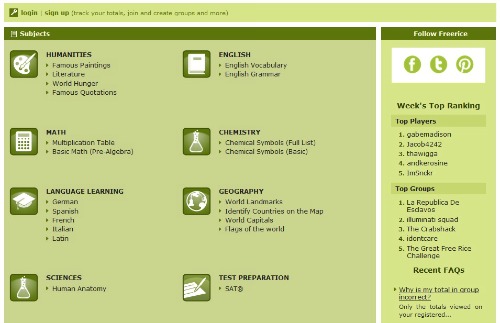 So, select the English Vocabulary and you shall also have the rules of the game in the right column, just by your board containing the word and your four choices, as above. You select the correct substitute of the word and look what happens: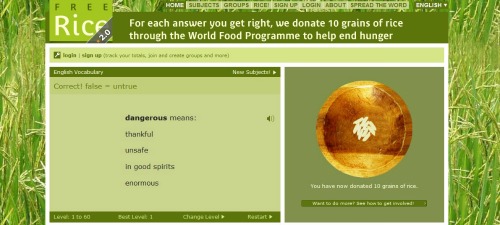 Ta-dah! You just donated 10 grains of rice to the needy. After you play for a while, you'll see your bowl filling up with rice. However, as this game can be addictive, in order to avoid the overflowing of the bowl, the system adds an icon with the number 100 for every 100 grains you've donated and it starts filling the bowl from scratch again.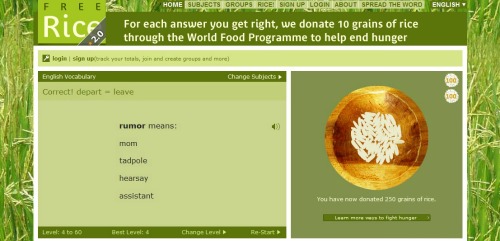 You can select your level, if you think this is too easy: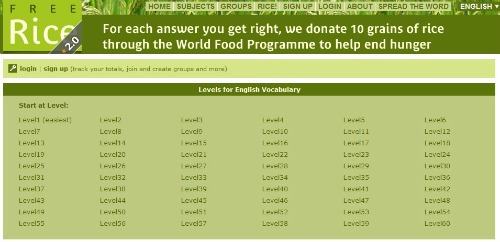 This is an example of a question in literature:
And this is what you get, if you choose to play and learn about countries, in the category of Geography:
So, I think you get the picture, don't you feel like playing by now? Tell me how you're getting on after a while. Just don't forget about yourself in front of that computer… you also have to eat and sleep some time, you know? Whatever you do, enjoy it!
This Is It, Folks!
---
I hope you find this information useful and not too confusing. Even though you're in the stage of building on it, have patience at this point in your learning and you'll be able to reap the fruit of your work later on, whichever aspect of our lessons you are concentrating on.

Please feel free to comment and suggest your ideas by replying to this email - I look forward to hearing from you. If you wish to chat either with me or with other members worldwide, go to My English Club .

Enjoy your holidays and your time with your families!
My best wishes,

Lucia da Vinci

Founder of My English Club
---