Hello,


---
Greetings and General Information
---
A warm welcome to our new subscribers! I wish you will find My English Club fun and instructive and I look forward to welcome you as a new valued member soon. Read, learn and communicate around the world!

Please feel free to contribute to these pages when you have a minute. They are meant to be a platform for exchanging ideas, stories and opinions - an ideal medium for practicing your English, which should be used to the full. Together, let's bring it alive, let's make it the welcoming community you wished for, when you joined. Use the Comments facility at the end of every page and start making friends worldwide.

You and your friends can always subscribe individually through the form on My English Club If anybody mentions to you that they are interested in receiving it, please tell them this, with thanks. Also, they can read the previous issues on Back Issues for English Corner E-zine. Of course, you can also unsubscribe at any point, by using the link at the end of any issue of the e-zine, should you wish.

OK, having said that, let's proceed with this week's lessons and we'll have a little game at the end. Enjoy!
---
Month 9 ~ Lesson 38
---
We started studying three subjects back in September 2014: pronunciation and grammar for improving your communication skills, as well as website design and development, for those advanced students of ours who would like to apply their English to building a business online.

Once we covered the basics of pronunciation, we started a new course in reading, which we finished last month (March 2015). Following some recent requests, we started a section on educational games, to add the fun into your learning. I do hope you like these.

Until I'll have the time to write my e-books from these courses, you can enjoy our past lessons for free, as follows:

Pronunciation Lessons

Reading Lessons

Grammar Lessons

Website Design Lessons

Weekly Games


---
Grammar ~ Expressing Restriction
---
Last time we learnt about expressing exception and before that, we looked at additions. Now, let's look into another similar category: restriction
Words like only are RESTRICTIVE in the sense that they combine negative meaning with the idea of exception:

"He only knew one answer." (='he knew nothing but one answer')
"Only my brother knows my secret." (= 'no one except my brother…')

If we have an expression of amount and degree [see Issue 050 for this], then only means 'no more than…':

"Only a few people came to her wedding (='no more than a few…').
"I know this subject only slightly." (='… no more than slightly')
"He didn't buy the car from me; he only borrowed it from me. (= '… he did no more than borrowing it from me')


There are other words with a similar meaning to only, like just, merely, simply.

When we're talking about time and timing, the restrictive meaning of only can still be applied, in a slightly different way:

"I've heard your news only last week. (='no earlier than', or 'as late as…')

However, note that there is a contrast between only and even:

"Only my coat was wet. (='that and nothing else').
Even my underclothes were soaked. (= 'That as well as everything else')
---
Website Design ~ High-Quality Inbound Links
---
Inbound links are links that come into a website, from other websites.

Natural inbound links are important. Without them, your pages will not rank high at the search engines, no matter how great the content is. Manipulative inbound links, on the other hand, will have the opposite effect -- they will result in search engine penalties.

What's the difference between a "natural" and a "manipulative" link?

A link that you buy, or a link that you add yourself (other than on your social media pages) is manipulative (the goal of these links is to increase rankings, so the link is an attempt to manipulate the search engine).

A link that a blogger or webmaster, or another social media user, adds to a site is natural. Why? Because it's a natural outcome of your valued content, it shows that other people value it and want to be connected with you, on the worldwide network.

I would advise you to not buy links from sites "selling high Google PR links." And do not obtain links from low-value sites.

The best inbound links, therefore, are earned, not built. Create content that is worthy of links, then sit back and do nothing while other website owners do the "link-building" to your site.

There is one outbound link policy to remember. Never, never link to a link farm (or any other organization set up merely to boost link popularity). And never link out to any low-value site or page. The best strategy by far for building a natural link profile is a passive one... simply create a site of such high quality that people want to recommend it to their audiences.

But now, let's see the things you can do to encourage people to link to your content. You can…

1. Reach Out to "Influencers" in Your Niche

A great way of "encouraging" others to link to your content is to reach out to related, but non-competing, blogs and websites in your niche and see if they may be happy to link to a particularly strong page you have written. Or they may agree to your request to write a high-quality guest post for them. If they are really impressed, they may even invite you to write for them on a regular basis!

2. Niche Directories

Next is to get your site listed in a high-quality niche directory. If you can find a superb niche directory that visitors actually use and that lists only best-of-breed sites, that is a link you want. If the application process is not quick and easy, and if it involves a non-refundable fee to cover the human editor's time... that's better still!

Wait until you have published a reasonable number of content pages before applying (you will probably be rejected if your site contains too many information gaps). But do not wait until after you have added advertising and other monetization models to your pages... because you will have a better chance of impressing the human editor if your site is still "pure."

3. Be Open to Opportunities

The long-term strategy for earning links is a passive one. Simply build a site of such high quality that other webmasters want to link to it to increase the value of their own visitors' experience.

4. Set Up Outbound Links

A great content site provides links to other sites to provide value to its visitors. Choose high-quality, niche-related, non-competing sites as you happen to discover them in the course of normal business, content research, or surfing. Link to them to provide value to your visitors. If the site owners want to give a link back in return, that's good, but it's not "the point." Outbound links (ones that are not exchanges) "count" in engine algorithms.

Visitors appreciate being presented with high-value links to related material that further enhances their surfing experience.

I hope all this makes sense to you. Next week we shall look into one more step about achieving an ever-growing traffic snowball rolling downhill at an ever-accelerating pace: social marketing in the SBI system and after that, next month we shall speak more about building relationships.
---
Game of the Week ~ The Vocabulary Game
---
The Vocabulary Game game will help you improve your word portfolio, by giving you a sentence in which you will have one word highlighted. Then you will be asked to select the correct meaning of that selected word.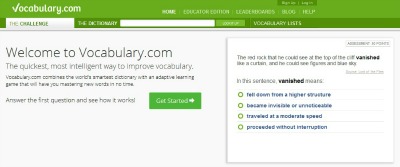 You will have 4 choices for your answer and the number of points you would get for the correct answer.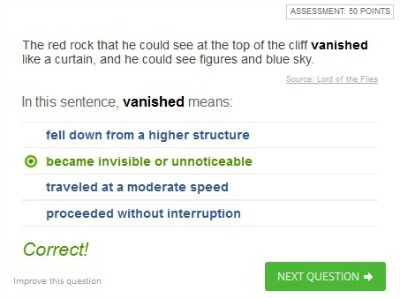 Another type of question is to choose the correct picture for the meaning of a single word. You get the number of points for the correct answer, together with the list of the points you've accumulated so far, on the right side of your question.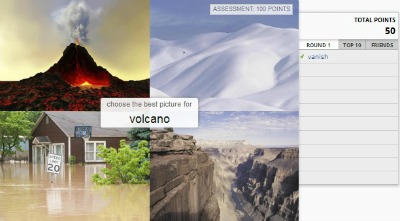 Feel like guessing?

On some questions (like this one), you can wait a few seconds and you'll see an option to get a hint. If you're not sure of what a word means, it's better to take the hint than to guess.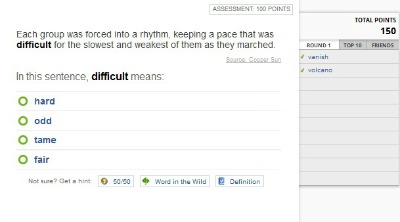 If you select the hint 'Word in the Wild', you will get an example of a sentence containing the word in question, from a few media sources such as 'Golf Digest', 'The Verge', 'Washington Times', 'US News', 'Science Magazine', 'BBC', 'Los Angeles Times', etc. All the examples are related to contemporary events in the media.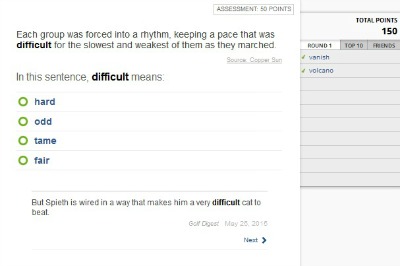 If you select the hint '50/50', you will keep the 4 choices, split into two categories: the correct ones in green and the wrong ones in red: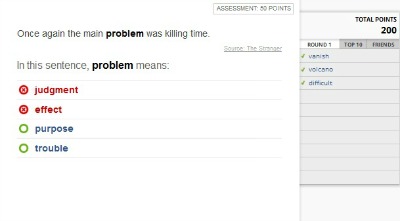 Sometimes you just have a word, without the sentence context. A synonym will be included among the words to choose from and the definition at the bottom of the question dialogue box.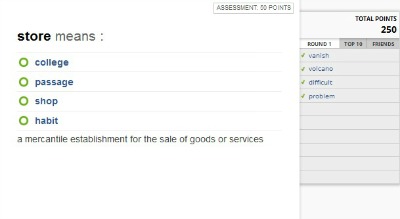 All the time, as you've seen, the system keeps your score on the right side and … surprise, surprise… you get a bonus when you hit 5 correct answers in a row: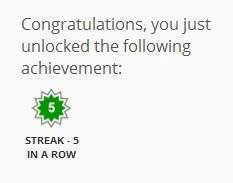 OK, just out of curiosity, I went on for the second row and … well, the game continues the same as before, for 10 questions in total. Now, look - we can be asked for an antonym of a word as well: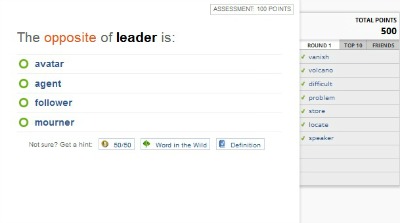 At the end of it, you get all the points you've accumulated, counted and including the bonuses for any 5 correct answers in a row.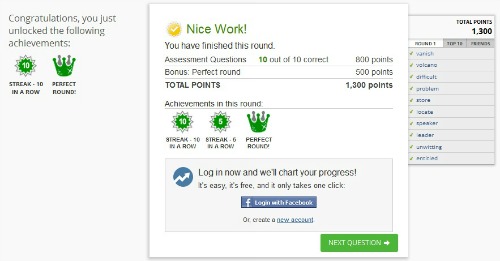 Guess what? After that, should you go on for another game, you keep all the previous points and … well, you keep gathering more!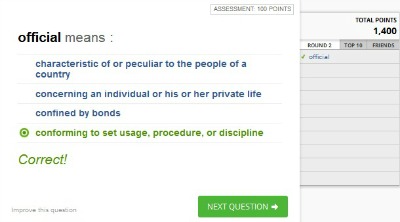 If there were a moral to this game, like to a story… it would be 'start finding your words and never stop' – I'm fine with that, aren't you?

Here you are - Vocabulary Game . Enjoy playing!


---
This Is It, Folks!
---
I hope you find this information useful and not too confusing. Even though you're at the stage of building on it, have patience at this point in your learning and you'll be able to reap the fruit of your work later on, whichever aspect of our lessons you are concentrating on.

Please feel free to comment and suggest your ideas by replying to this email - I look forward to hearing from you. If you wish to chat either with me or with other members worldwide, go to My English Club .

Enjoy the rest of your week!
Have fun, as always.

Lucia da Vinci

Founder of My English Club
---