Hello,


---
Greetings and General Information
---
A warm welcome to our new subscribers! I wish you will find My English Club fun and instructive and I look forward to welcome you as a new valued member soon. Read, learn and communicate around the world!

Please feel free to contribute to these pages when you have a minute. They are meant to be a platform for exchanging ideas, stories and opinions - an ideal medium for practicing your English, which should be used to the full. Together, let's bring it alive, let's make it the welcoming community you wished for, when you joined. Use the Comments facility at the end of every page and start making friends worldwide.

You and your friends can always subscribe individually through the form on My English Club If anybody mentions to you that they are interested in receiving it, please tell them this, with thanks. Also, they can read the previous issues on Back Issues for English Corner E-zine. Of course, you can also unsubscribe at any point, by using the link at the end of any issue of the e-zine, should you wish.
Announcement
OK, the news today is that I've made it to the U.K. this weekend, after a very tiresome episode at the King Khalid Airport, where I was sent to take a flight which didn't exist last Friday night. I was there, alone, with a ticket in my hands looking for my flight and all the airport staff I asked were trying to convince me how that flight couldn't happen, because the airline (Aegean) is only scheduled to start operating from that airport on Tuesday 21 July 2015!!

I was very well looked after all along, then I was booked into a hotel, to rest a bit before another 12-hour episode of traveling and I departed at 4am the following morning. The change is tremendous - I went from this: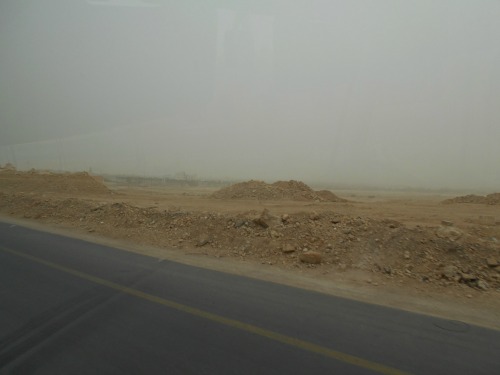 ... to this, overnight: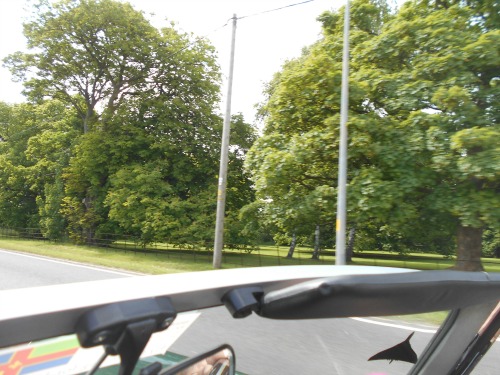 This is my first week of the journey I'll be taking for the duration of a complete year, if all goes according to the plan. I will be in Lincolnshire for sufficient time to visit my best friends over here, to turn my suitcases around and set off for my second week, in Denmark. I will try to set up the blog I promised, so you can keep track of my moves regularly.

OK, having said that, let's proceed with this week's lessons and we'll have a little game at the end. Enjoy!
---
Month 11 ~ Lesson 41
---
We started studying three subjects back in September 2014: pronunciation and grammar for improving your communication skills, as well as website design and development, for those advanced students of ours who would like to apply their English to building a business online.

Once we covered the basics of pronunciation, we started a new course in reading, which we finished last month (March 2015). Following some recent requests, we started a section on educational games, to add the fun into your learning. I do hope you like these.

Until I'll have the time to write my e-books from these courses, you can enjoy our past lessons for free, as follows:

Pronunciation Lessons

Reading Lessons

Grammar Lessons

Website Design Lessons

Weekly Games


---
Grammar ~ The 13 Gremlins of Grammar
---
OK, because I'm in the middle of rearranging my life to adapt to the next chapter, I prepared a very short 'lesson' for you, which will only be a lesson if you wish to learn anything from it. If you do, then have a look at every line and find one mistake in each sentence.

The definition of a gremlin is 'a small imaginary creature that people blame when they have problems with machines or other aspects of life.'

Try to see what got in the way, when we wrote the following rules:

The 13 Gremlins of Grammar

1. Correct speling is essential.
2. Don't use no double negatives.
3. Verbs has got to agree with their subjects.
4. Don't write run-on sentences they are hard to read.
5. About them sentence fragments.
6. Don't use commas, they aren't necessary.
7. A preposition is not a good word to end a sentence with.
8. Remember to not ever split infinitives.
9. Writing carefully, dangling participles must be avoided.
10. Alway's Use apostrophe's correctly.
11. Make each singular pronoun agree with their antecedents.
12. Join clauses good, like a conjunction should.
13. Proofread your writing to make sure you don't words out.


And, above all, avoid clichés like the plague."

Well, there you are, my friends... Your job is to find the mistakes in the sentences above. Each one is actually a mistake that breaks the rule mentioned in that sentence.

For example, in the first sentence, the word 'speling' is incorrect, in spite of the rule - it should be 'spelling'. In (2), using 'don't' and 'no' in the same sentence is a double negative... And so on, don't let me spoil your fun.
---
Website Design ~ Socialize It!
---
Once you have lots of great content and if you are adding fresh content on a regular basis, there are a few social media strategies you may wish to consider for your website:

Socialize It!

This will add a button bar to your pages, in one of two formats:

The 8-pack button bar contains small buttons for the main social media marketing sites.



The 2-pack button bar contains buttons to share the page on Facebook and to tweet about it on Twitter.



These buttons let your visitors quickly bookmark and/or share the page they're visiting with their friends on their favorite social network.

You can also add an always-visible "floating" sharing bar to your site (either as well as or instead of Socialize It!):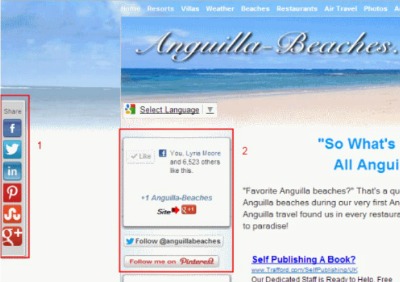 You can use Face It! to set up Facebook-like buttons and comments

Face It! makes it easy to add Facebook's Like buttons to every content page of your site. You select or change a few options at Facebook, copy the code, and activate the buttons. Then add them to your pages using BB2's Social Block.

Your visitors will then be able to Like your site, or Like the page they are on, or both. And then their friends will see that Like (think of it as a vote of confidence) in their Timelines, which could result in visits from those people.

With SBI you can also add a Google +1 button to your content pages via the Social Block, as well as the Pinterest Pin It option to one or more images on each page.

Your time availability, your type of business and/or your personal interest will determine how you will do "active" social marketing. Your choices are:

• Create a Facebook business page. Find 30 minutes per day to make a post or two and reply to questions and comments left by your fans. Link to it from your website. And link from its About section back to your site.
• Create a Google+ page (if people in your niche participate there -- some niches, such as photography, thrive on Google+).
• Grow your Facebook page and/or your Google+ page with regular content updates, images, videos, etc.
• If Twitter and Pinterest make sense for your site, start accounts with them, and add their Follow buttons to your pages.
• If LinkedIn makes sense for you (ex., you are selling your services, especially to businesses), get involved there, too!


The most important thing to remember about building an active social presence for your business is to do it well. My decision, about this website in this sense was to only apply social media when I will have the time to dedicate to a quality presence online. I tried to implement this function at some point, but I wasn't happy with the result and I didn't want to risk getting any 'dislike' votes instead of the 'like' ones we treasure so much.

The truth is that establishing a strong foothold at Facebook and Google+ and Twitter is great. But if your time is limited, stick to using just one social channel. If most of your target audience uses Facebook, it makes sense to start there. If they use Twitter, start there.

Set up a Facebook Business Page for your site

A Facebook business page is an important marketing option, especially useful for creating brand loyalty.

Your first step is to check out the Facebook information series in the SBI library, where you will find tips on setting up your page, setting privacy, adding photos to your Timeline, and other useful information to help you market your site.

Remember that we all have our own preferred method of "keeping in touch"...

1) Facebook -- becoming a fan as a method of keeping in touch.
2) Twitter -- make tweeting your primary social presence if you feel your audience is more here than on Facebook.
3) RSS -- your savvier visitors will use this. But many still do not know what to do with that "orange button."
4) e-zine -- it's the most 1-to-1 personal, but some people don't want to give you their email address).


It's not about what you prefer, it's about what your visitors prefer. The more ways you offer folks to follow you, the bigger your following. Build those followings and you can... PREsell, monetize and build equity in your business.


---
Game of the Week ~ Word confusion
---
Let's go back to those confusable words we considered a way back and play the Word Confusion game.

This is a game not only for children, but also for adult learners, as well as for young native speakers, who want some practice with these word pairs that sound the same, but are spelt and pronounced differently AND, of course, have different meanings. They are called homophones.

In this game, you will gain points which will be presented to you as ingredients for a salad, which you are going to help Regan the Vegan with.




Here is an example of a simple word pair. What do you have for breakfast – 'cereal' or 'serial'?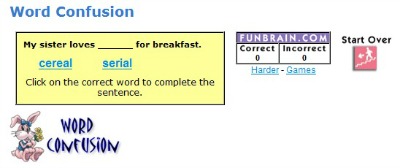 It's obvious! But… what do you have in an airplane – a 'censor' or a 'sensor'? See the difference?

You will be able to choose your preferred level from the links underneath the score table on the right.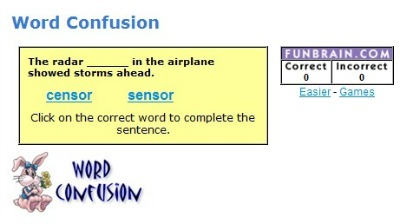 Now, have a look at how you are gathering the salad ingredients, and these will turn into a bowl of salad, as you'll see a bit later. The following is another easy choice of words: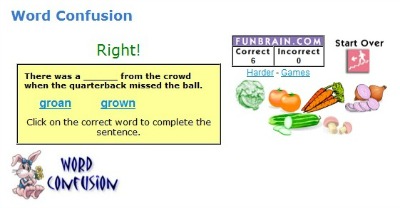 In parallel, here is a harder pair: what can a confession be like – 'illusive' or 'elusive'? You get the same salad, mind you… but the satisfaction of getting it right is probably higher.



OK, now let's check out what happens when you don't get it right. You will get an 'Oops!' message, together with your wrong choice AND the correct one, so you can always see the difference and learn from your mistake. This is what makes the game worthwhile, in my opinion.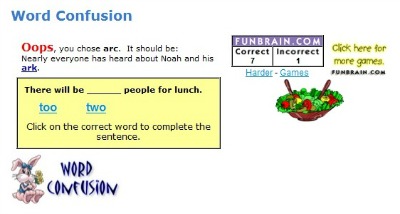 Watch the salad nicely served in a bowl. The game goes on though, earning you more ingredients for a second salad, as below: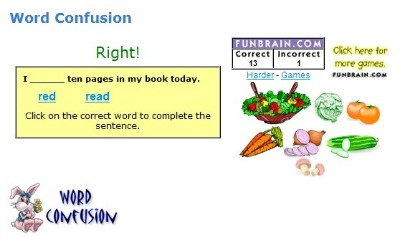 Eventually, you will come to the end of the game, when you will be congratulated for the points you've earned and be given the chance to play again, either the same level or change the level as you wish.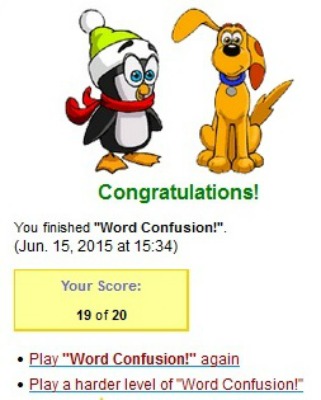 So, go ahead, enjoy the Word Confusion game :-D


---
This Is It, Folks!
---
I hope you find this information useful and not too confusing. Even though you're at the stage of building on it, have patience at this point in your learning and you'll be able to reap the fruit of your work later on, whichever aspect of our lessons you are concentrating on.

Please feel free to comment and suggest your ideas by replying to this email - I look forward to hearing from you. If you wish to chat either with me or with other members worldwide, go to My English Club .

Everybody, let's have a great summer holiday!
All the best from me, until next time,

Lucia da Vinci

Founder of My English Club
---