Hello,


---
Greetings and General Information
---
A warm welcome to our new subscribers! I wish you will find My English Club fun and instructive and I look forward to welcome you as a new valued member soon. Read, learn and communicate around the world!

Please feel free to contribute to these pages when you have a minute. They are meant to be a platform for exchanging ideas, stories and opinions - an ideal medium for practicing your English, which should be used to the full. Together, let's bring it alive, let's make it the welcoming community you wished for, when you joined. Use the Comments facility at the end of every page and start making friends worldwide.

You and your friends can always subscribe individually through the form on My English Club If anybody mentions to you that they are interested in receiving it, please tell them this, with thanks. Also, they can read the previous issues on Back Issues for English Corner E-zine.

OK, having said that, let's proceed with this week's lessons and we'll have a little game at the end. Enjoy!
---
Month 8 ~ Lesson 33
---
We started studying three subjects back in September 2014: pronunciation and grammar for improving your communication skills, as well as website design and development, for those advanced students of ours who would like to apply their English to building a business online.

Once we covered the basics of pronunciation, we started a new course in reading, which we finished a couple of weeks ago. Following some recent requests, we started a section on educational games, to add the fun into your learning. I do hope you like these.

Until I'll have the time to write my e-books from these courses, you can enjoy our past lessons for free, as follows:

Pronunciation Lessons

Reading Lessons

Grammar Lessons

Website Design Lessons

Weekly Games


---
Grammar ~ Expressing Hope
---
You can use formal as well as informal sentences in order to express hope. The normal expression is by simply using the verb 'hope' in the tense required by the sentence:

"I hope to see you soon."
"I hope (that) the train arrives/will arrive on time."


Note that you may omit 'that' – the link between the two sentences.

To express various degrees of hope, you may engage the use of what we call adverbs of degrees and this will signal the 'strength' of your emotions to the listener. In our sentences above it goes like:

"I (very much) hope (that) the train will arrive on time."
"I am (rather) hoping (that) the train arrives on time."

Adverbs of degree and what we call 'gradable words' are a complex grammatical matter, so I propose we consider them in a separate session next time, before we continue with other emotions one can express.

I hoped that … [this is more tentative]
I was hoping that … [this as well, is more tentative]
Hopefully, next time he'll come bearing gifts.

Now, if we use verbs like 'hope' and 'want', etc. in the progressive (continuous/-ing) form, we're expressing greater tentativeness and tact.

As an example, instead of saying:

"Did you want to see me?" you may say
"Were you wanting to see me?"

"We hope they will come to the wedding." you may say
"We are hoping they will come to the wedding."


By engaging these expressions, you are actually showing less directness. The result is to slightly sweeten a hidden request.
---
Website Design ~ Website Design Tools [2]
---
The next stop in Site Central is the Site Builder. This is another pivotal point, giving us access to various tools such as:

- the Site Designer (for the Look and Feel of the website);
- the Site Navigation (for designing and organising the buttons on the website);
- Socialize It! (for including Facebook kind of buttons, Like buttons and other social media facilities. Although quite limited, this adds a kind of 'connected' feel to a website. I'm not using it right now, for my own reasons. I tried it and I decided that I prefer the real thing, to the look-alike buttons, so I'll wait until I'm in a position to engage fully in the main social media stream.
- Mobilize It! Is the facility where we test, prepare and modify a website in order for it to look good on mobile phones and tablets;
- The Libraries are very useful storage places for pictures, links inside my website and outside to other websites, a space for my forms, which can be for joining the club, for the various quizzes I build for our readers, or for exercises you find on various pages in the website.
- The Web FTP is for people who can program HTML coding, to upload better looking and more functional pages, but sadly, that's not me…
- XML It! uploads files that are for RSS use – that is files of the .rss, .rdf, or .xml type
- TXT It! allows the upload .txt files
- Quick Preview It! allows one to view HTML editor-built pages with the content of all the SBI!
- Fav It! allows me to upload a favicon which is a small icon for a website that appears in your address bar, and also in your bookmarks/favourites folder.
- Verify It! lets one upload ownership verification files that Google Webmaster Tools and Bing Webmaster Tools provide.
- Special File Manager allows me to manage the media and support files (mentioned above).

You can see how complex this system is by now. However, there is nothing in that system that is not covered by a lesson in the web design course, in the forum threads, or available from one of the kind system support technicians who are available to us 24/7 on an online chatline.
We shall look at the next facilities of the Site Central in our next lesson - let's relax a little now, with our new game:
---
Game of the Week ~ Spell It
---
From the same website I've introduced to you before (Merriam-Webster Dictionary), I'm bringing you a new game to improve your spelling.

Spell It is not as funny as the first one we had (Spelloween), but it's great in the sense that it allows you to listen to the words first and then spell them. This gives you the chance to improve the skill of associating the sounds you hear with the correct combination of letters in order to spell the words, which is one of the most important aspect of spelling correctly.

Children learn English by using the 'phonics system' today (well, adults do so also). The phonics system is based on the skills of recognising distinctive sounds, in order to transcribe them into letters. At the same time, knowing the sounds that various letters (and combinations of letters) make, help one read the words with the correct pronunciation.

Basically, this is what one needs for good writing and speaking.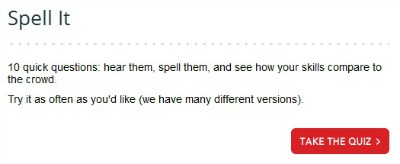 In this particular game you will have 15 seconds to answer your questions, but you actually get extra points if you answer quicker AND if the questions are more difficult.


As you can see in the picture below, you can actually use most of your seconds for playing the word again and again, until you get the right sounds and then use just a few seconds spelling it.


If you enter a word spelled incorrectly, the system will give you the correct spelling.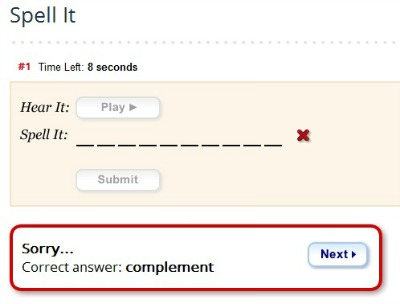 Well, I discovered on this occasion that I am actually missing a sound plugin on my computer, consequently, I cannot enter any words correctly. Nevertheless, I went to the end of the game, only to show you that you get your final score, together with the score rates in your age group.


You also get the list of your random words with their level of difficulty and an invitation to another quiz.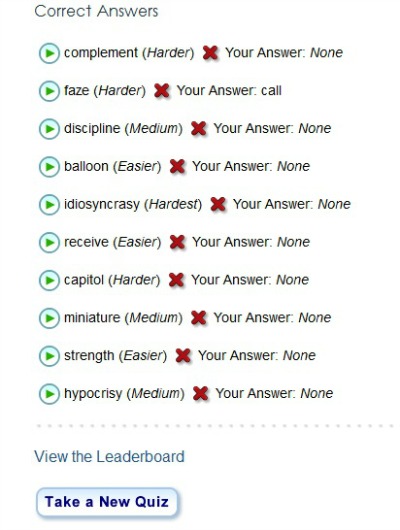 This seems a little more complicated, but not as complex as our last spelling game, Spelloween .

So now you can try each one in turn and pick your favourite. Don't forget about an old favourite of mine, Free Rice , which is also a great game for improving your spelling.

Enjoy learning!
---
This Is It, Folks!
---
I hope you find this information useful and not too confusing. Even though you're at the stage of building on it, have patience at this point in your learning and you'll be able to reap the fruit of your work later on, whichever aspect of our lessons you are concentrating on.

Please feel free to comment and suggest your ideas by replying to this email - I look forward to hearing from you. If you wish to chat either with me or with other members worldwide, go to My English Club .

Enjoy the rest of your week!
Have fun, as always.

Lucia da Vinci

Founder of My English Club
---