Hello,


---
Greetings and General Information
---
A warm welcome to our new subscribers! I wish you will find My English Club fun and instructive and I look forward to welcome you as a new valued member soon. Read, learn and communicate around the world!

Please feel free to contribute to these pages when you have a minute. They are meant to be a platform for exchanging ideas, stories and opinions - an ideal medium for practicing your English, which should be used to the full. Together, let's bring it alive, let's make it the welcoming community you wished for, when you joined. Use the Comments facility at the end of every page and start making friends worldwide.

You and your friends can always subscribe individually through the form on My English Club . If anybody mentions to you that they are interested in receiving it, please tell them this, with thanks. Of course, you can also unsubscribe at any point, by using the link at the end of any issue of the e-zine, should you wish - no questions asked.

Until I'll have the time to write my e-books from these courses, you can enjoy our past lessons for free, as follows:

Archive of all the back issues

Pronunciation Lessons

Reading Lessons

Writing Lessons

Grammar Lessons

Website Design Lessons



---
Grammar ~ Conditional III
---

We are continuing the series of lessons on 'If clauses' or conditional sentences, by looking into the conditional III type. Please find the lesson on this topic outlined on the Conditional III page. You also have an exercise at the bottom of this page, so please feel free to test your knowledge on those five little sentences.


---
Writing ~ The Image as a Writing Device
---

Today we have a new topic - the image a writer uses to express his ideas in words. Please find this on the The Image as a Writing Device page. This is only the introduction to this important topic. We shall continue to look into the details of various types of images a writer can use, depending on his/her style and chosen genre.


---
Game of the Week ~ Conditionals Billionaire Game
---

Well, since we finished the third conditional today, I found a really funny game for you to test your newly acquired knowledge. You can find this on the Billionaire Conditionals Grammar Game page. This is not a game for children or beginners of English. Play it repeatedly and you will gain a valuable insight into the complex world of conditionals. Enjoy!



You have a choice between playing on your own, or with a partner:



I could only choose the one-player option and I was prompted to insert my name. At the end I realised this was so that I could print the certificate I was offered on completing the game.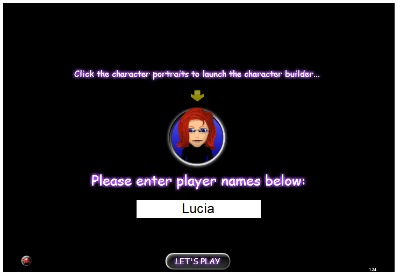 On the first rung of the billionaire ladder you get a simple question and four choices of which only one is correct.



You will only receive a 'correct' message once you submit your choice, and you'll jump to the next level. You will have your score added to the previous one at the bottom of the screen.



And so it goes until you climb to the top, however you do have the usual lives: 50/50, ask the audience and call a friend, should you be in need of help.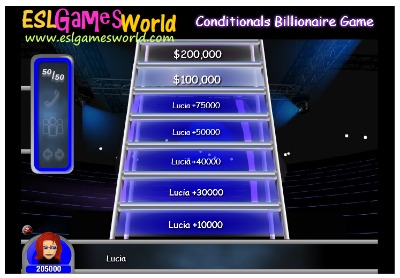 In case your answer is wrong, you do get the correct answer, so you can learn on the go, which is quite useful.



On opting for 50/50 you will be asked to confirm this, for security.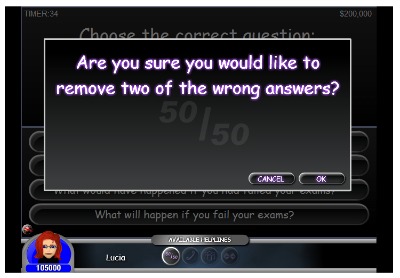 By the end of the game you will also have some more theoretical questions, like:



or...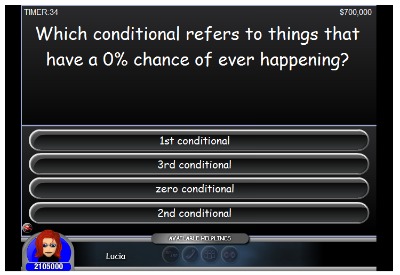 And so it goes until you... become a billionaire - I think this game will be popular with more readers than any one we considered before! :-D



OK, it's your turn to play the game on the Billionaire Conditionals Grammar Game website. Have fun, as always!
---
This is it for now, my friends!
---
I hope you find this information useful and not too confusing. Even though you're at the stage of building on it, have patience at this point in your learning and you'll be able to reap the fruit of your work later on, whichever aspect of our lessons you are concentrating on.

Please feel free to comment and suggest your ideas by replying to this email - I look forward to hearing from you. If you wish to chat either with me or with other members worldwide, go to My English Club .

All the best from me until next time,

Lucia da Vinci

Founder of My English Club
---