Hello,


---
Greetings and General Information
---
A warm welcome to our new subscribers! I wish you will find My English Club fun and instructive and I look forward to welcome you as a new valued member soon. Read, learn and communicate around the world!

Please feel free to contribute to these pages when you have a minute. They are meant to be a platform for exchanging ideas, stories and opinions - an ideal medium for practicing your English, which should be used to the full. Together, let's bring it alive, let's make it the welcoming community you wished for, when you joined. Use the Comments facility at the end of every page and start making friends worldwide.

You and your friends can always subscribe individually through the form on My English Club . If anybody mentions to you that they are interested in receiving it, please tell them this, with thanks. Of course, you can also unsubscribe at any point, by using the link at the end of any issue of the e-zine, should you wish - no questions asked.

Until I'll have the time to write my e-books from these courses, you can enjoy our past lessons for free, as follows:

Archive of all the back issues

Pronunciation Lessons

Reading Lessons

Writing Lessons

Grammar Lessons

Website Design Lessons



---
Grammar ~ Expressing Moods, Emotions and Attitude
---

You will find this topic outlined on the Expressing Moods page. We have touched on it previously and I am sure we shall further expand on it in the future.

I hope you find it useful in your English practice.


---
Writing ~ Powerful Verbs for Writing
---

Nouns, however direct and precise they may be, cannot stand alone, lacking the ACTION in a writer's sentences.

You can find out about some hidden aspects of verbs on the http://www.my-english-club.com/Powerful-Verbs.html page. I apologise this could not be added as a link today - system glitch again...

I hope you'll find this useful.

---
Game of the Week ~ The Comma Chameleon
---

One interesting game for us today covers punctuation, which we haven't considered for a long time now.

Today we are going to look at the Comma Chameleon game.

You will have to indicate to the chameleon the correct punctuation mark it needs to grasp and then direct it to place it in the right place for the sentence you're working on.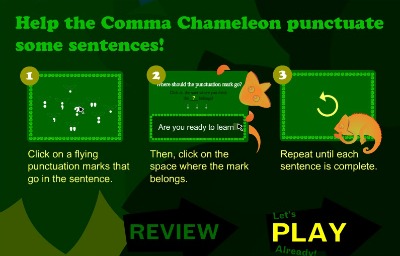 You will actually have instructions on the screen at all times, and you are not timed for your answers either, making this a great game for young learners. Play it with your child, would you?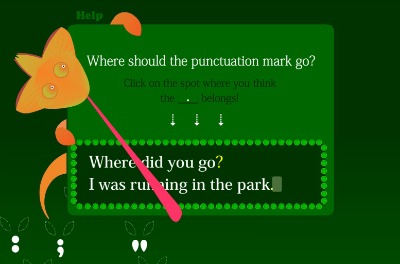 At the end of punctuating each sentence, you will get a congratulating message.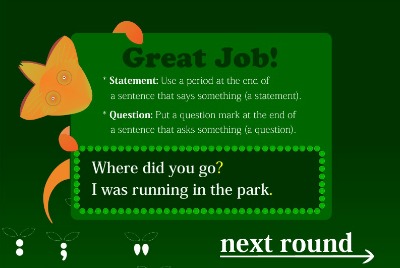 At the bottom of each screen you will have a 'Help Button' and the help the system gives you is usually in this format: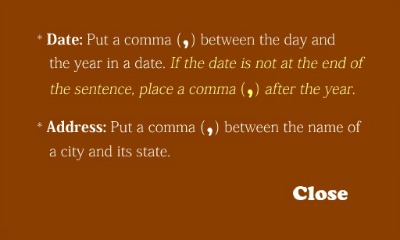 Each time you get it right, the chameleon changes its colour. You'll have examples covering dates and places;



... series of three or more nouns;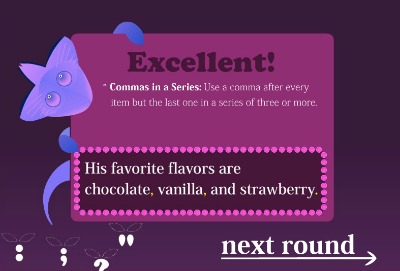 ... joining two statements;



... possessive nouns and starting a sentence with 'yes', 'no' and 'well';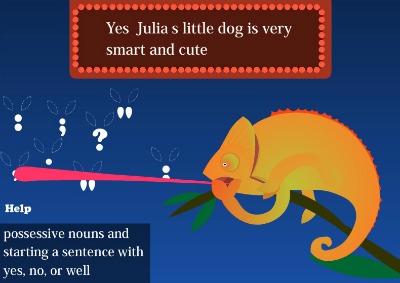 ... and that's about it! Now it's your turn to play the Comma Chameleon game. Involve your children and... Enjoy!


---
This is it for now, my friends!
---
I hope you find this information useful and not too confusing. Even though you're at the stage of building on it, have patience at this point in your learning and you'll be able to reap the fruit of your work later on, whichever aspect of our lessons you are concentrating on.

Please feel free to comment and suggest your ideas by replying to this email - I look forward to hearing from you. If you wish to chat either with me or with other members worldwide, go to My English Club .

All the best from me until next time,

Lucia da Vinci

Founder of My English Club
---