Hello,


---
Greetings and General Information
---
A warm welcome to our new subscribers! I wish you will find My English Club fun and instructive and I look forward to welcome you as a new valued member soon. Read, learn and communicate around the world!

Please feel free to contribute to these pages when you have a minute. They are meant to be a platform for exchanging ideas, stories and opinions - an ideal medium for practicing your English, which should be used to the full. Together, let's bring it alive, let's make it the welcoming community you wished for, when you joined. Use the Comments facility at the end of every page and start making friends worldwide.

You and your friends can always subscribe individually through the form on My English Club . If anybody mentions to you that they are interested in receiving it, please tell them this, with thanks. Of course, you can also unsubscribe at any point, by using the link at the end of any issue of the e-zine, should you wish - no questions asked.

Until I'll have the time to write my e-books from these courses, you can enjoy our past lessons for free, as follows:

Archive of all the back issues

Pronunciation Lessons

Reading Lessons

Writing Lessons

Grammar Lessons

Website Design Lessons

Weekly Games


---
Grammar ~ Emphatic Expressions
---

Another way of expressing heightened emotion in speech and writing is by using emphatic expressions like 'so' and 'such'. You can find this lesson on the Emphatic Expressions page. I do hope you find this useful.


---
Writing ~ Individuality and Circumstance in Writing
---

Last time we observed how words affect us when we hear and read them. Try to consider this when you learn new vocabulary, when you collect words and expressions in your commonplace book (see Issue 072 ).

Today we said we shall consider the aspects of individuality and circumstance in writing, which affect the writer's particular style, or the manner in which the writer expresses him/herself.

No matter where you are in your evolution as a writer, your style will evolve naturally over time. I'm saying nothing new here, but you need to know that you can only develop this ability by becoming conscious of your choice of words and own voice and this only comes with practice. If you are a pupil, learning the mechanics of writing your sentences, once you've mastered this stage, you shall go on to learning how to write your paragraphs and then expand to using your paragraphs in essays required at school, college and possibly writing competitions.

The way to develop these abilities starts from reading a lot in order to develop your writing style. Read broadly, be voracious (as if hungry for words) and take examples from the masters of great literature.

Remember those examples of the great masters of the art and then… write. There is no other way; there is no substitute, just like with cooking, to perfect your skill. When cooking, you need to know your ingredients and their strength, just like you need to know your words and their power when writing. Then you need to know how much to add, of each ingredient; likewise, you need to select your words when writing and add them to your mix in order to present them to your reader.

Now, while you are striving to enlarge your vocabulary, you must show that you are confident in using your words, therefore it is very important for you to start writing by using the words you actually use in real life and not use those you are not sure on. If you only use words to impress your reader or teacher and colleagues, you run the risk of misusing those words, or using them awkwardly. Avoid this at any cost!

When you apply your skills, always try to be clear. Your goal is to communicate your ideas and, no matter how beautifully you put them across… if your reader does not get the point, not only did you waste your time, but you also lost the attention and esteem of one reader. As Cyril Connolly put it in his critical work "Enemies of Promise", "The perfect use of language is that in which every word carries the meaning that it is intended to, no less and no more."

How very true, but for this to happen to you, you must know the power of each word and expression you are using and to know when to use each one, according to the type of audience you are facing. Be concise and precise and try to get your point across the best way you can. Once you've written a piece, look at it again and reduce it by using even more precise vocabulary. Then do it again, until you are happy with the result. This is exactly the practice you need to do regularly. This is the way you develop your style, i.e. the way you write, as opposed to what you write about (though the two things are definitely linked). Your style is dictated by factors like word choice, tone, and syntax. It's the voice readers "hear" when they read your work - the voice that is uniquely yours, this is your individuality.

When talking of circumstance we need to be aware of how your voice will change as you address different audiences or readership categories. To give you an example, how would you write about a sunset to the following audiences:

- you are writing to your girlfriend, in a personal love letter;
- you are writing a publicity brochure about a tourist resort on the Mediterranean Sea;
- you are writing jokes, for a stand-up comedian; a toast, for a gala dinner for champagne distributors;
- or last but not least, your writing piece is a story for children.


Would you say you'd select different vocabulary and a voice for each of the above audiences? Would you use a thesaurus and a good dictionary, to change your wording accordingly? Would you agree that only doing all this practically would help you master your writing? I hope you thought 'yes', 'yes' and 'yes'…. OK, for homework for next time, I want you to review the elements of a communication act, which I shared with you in the grammar lesson of Issue 024 – the circle with the A, B, C, D communication functions. Everything we did since then in our grammar lessons will help you with this.
---
Game of the Week ~ The Restaurant Game
---

This is a complex communication game for intermediate students. You will need to know specific vocabulary related to food, restaurant menus and ordering/serving expression. It is The Restaurant Game . You will not be timed for this but, as a waiter in a Brit Cafe, you do need to keep track of your customers and their preferences. You'll have to earn as many tips as you can, by offering a good service and showing professionalism in your job.

I prefer to explain the game in more details then before, not because the game is difficult (it isn't), but because I'd like you to realise how many angles are involved in the simple conversations between a waiter and his customer.

You will find this game very useful when you come to your own lesson on ordering food in a restaurant, in your own private English lessons - and I bet everybody goes through this stage at one point or another.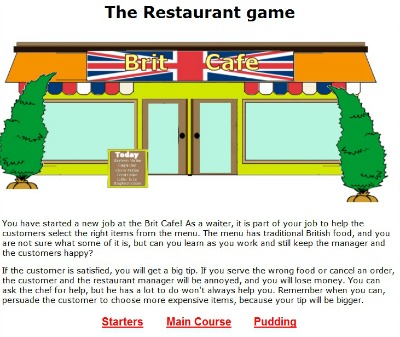 Above are the rules of the game. You will read them easier on the actual page. The following detailed explanation about how to play the game is based on the first part of the game, when you need to serve the starters.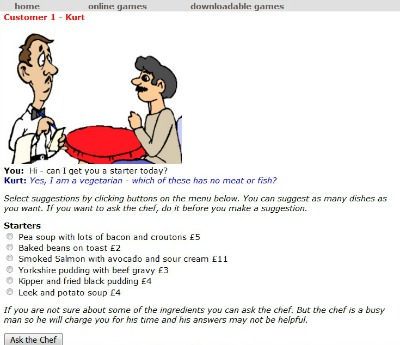 The first customer is vegetarian and won't even eat fish. You need to choose a dish from the pre-set menu.



In this case we suggested the baked beans on toast, but note that you could have also offered the leek and potato soup, because the instruction stated clearly that you can suggest as many dishes as possible.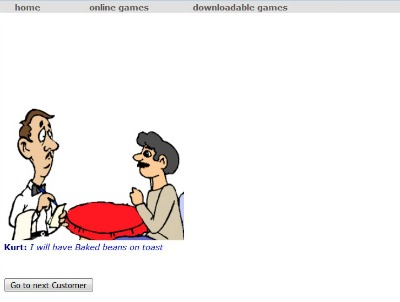 So, you offered and your client accepted your suggestion.



The waiter suggests Yorkshire pudding to Stavros, as he wanted the cheapest starter without fish or beans.



Here I selected exactly the wrong dish, for you to see what happens if you make a mistake. Jurge wanted anything without potatoes and he will get leek and potato soup...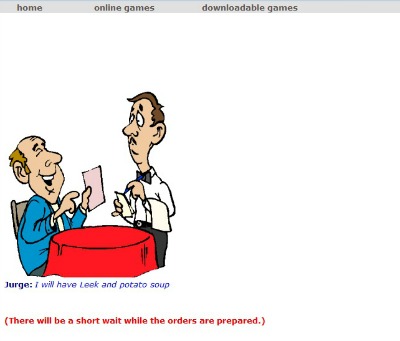 You see, nothing happens at this stage - the customer accepts your suggestion.

After a while, once you have your dialogues with all the customers, you will get to the list of all the dishes they accepted:



At this point you can change the order, by cancelling it, or take your order to the customer.



OK, Kurt accepted the dish, so you make a tip on this.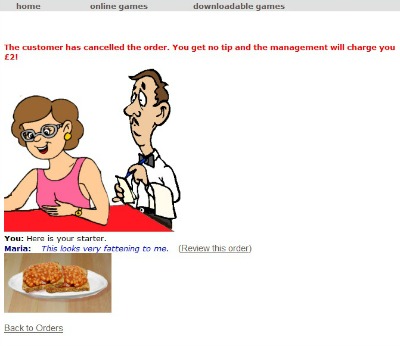 Maria is not happy, so she cancels on you, therefore you lose your tip and the management charges you £2, for the wasted food! Life can be tough with insufficient English, eh?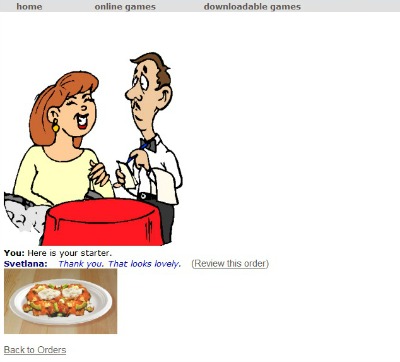 Svetlana accepts the order, so you get another tip.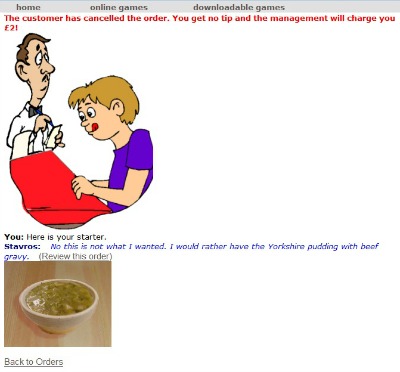 If you remember, you offered Yorkshire pudding to Stavros, so you have another cancelation...

OK, so that's how you go through all the dialogues, and at the end you can review a description of each dish, as below: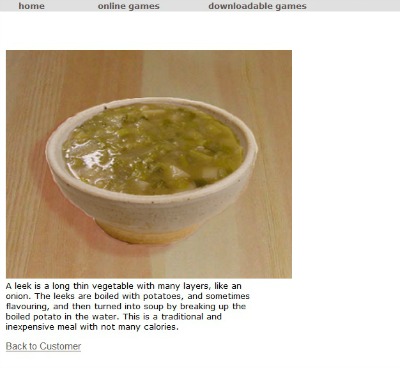 Well, that was that! Did you learn enough ordering and serving expressions, as well as your dishes in English?

You get the result of your tips on the last page, where you can also select to go further to serve the Main Courses and then the Puddings, or to abandon this game and go to the main game menu.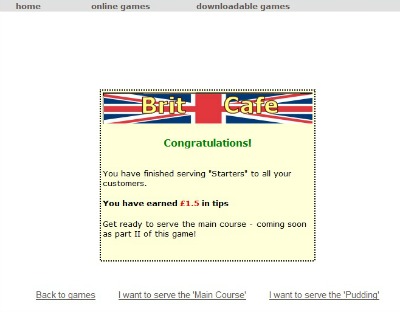 Without much more ado, it's your turn to play the The Restaurant Game . Enjoy!


---
This is it for now, my friends!
---
I hope you find this information useful and not too confusing. Even though you're at the stage of building on it, have patience at this point in your learning and you'll be able to reap the fruit of your work later on, whichever aspect of our lessons you are concentrating on.

Please feel free to comment and suggest your ideas by replying to this email - I look forward to hearing from you. If you wish to chat either with me or with other members worldwide, go to My English Club .

All the best from me until next time,

Lucia da Vinci

Founder of My English Club
---