Hello,


---
Greetings and General Information
---
A warm welcome to our new subscribers! I wish you will find My English Club fun and instructive and I look forward to welcome you as a new valued member soon. Read, learn and communicate around the world!

Please feel free to contribute to these pages when you have a minute. They are meant to be a platform for exchanging ideas, stories and opinions - an ideal medium for practicing your English, which should be used to the full. Together, let's bring it alive, let's make it the welcoming community you wished for, when you joined. Use the Comments facility at the end of every page and start making friends worldwide.

You and your friends can always subscribe individually through the form on My English Club If anybody mentions to you that they are interested in receiving it, please tell them this, with thanks. Also, they can read the previous issues on Back Issues for English Corner E-zine. Of course, you can also unsubscribe at any point, by using the link at the end of any issue of the e-zine, should you wish.

Well, without further ado, let's start our other lessons today.
Month 13 ~ Lesson 51
---
We started studying three subjects back in September 2014: pronunciation and grammar for improving your communication skills, as well as website design and development, for those advanced students of ours who would like to apply their English to building a business online.

Once we covered the basics of pronunciation, we started a new course in reading, which we finished in March 2015. Following some requests at that time, we started a section on educational games, to add the fun into your learning. I do hope you like these.
Announcement
Please note that we are also approaching the end of the course in website design by the end of August 2015, as planned. There are requests for a new course in writing skills, like we had the one in reading. Please feel free to send in your requests all along the month of August, just in case you have different preferences. I look forward to receive your comments - just reply to the email you receive from My English Club.

Until I'll have the time to write my e-books from these courses, you can enjoy our past lessons for free, as follows:


---
Pronunciation Lessons

Reading Lessons

Grammar Lessons

Website Design Lessons

Weekly Games

---
Grammar ~ Comparison
---

This topic is really important to understand and to master without too much thinking prior to communicating your message. I chose this concept of our communicative grammar sessions today because the students at Al Yamamah University have started their first term of the academic year 2015-16 and the project for the reading-writing course (level 4) is compare and contrast, so it comes in very handy at this time of the year.

You can find our lesson on Comparison . Equally, our game today is the exercise for this topic - enjoy both.
---
Website Design ~ Regular Performance Evaluation
---

We started this course in the first week of September last year (2014) and it is now the last week of August 2015, so I shall round it up with probably the most crucial point ever: that you need to track your site's performance and experiments, in order to know which strategies to keep and which ones to drop. Track whatever you want. For example, use a simple spreadsheet to track results of...

• Your post at a niche forum
• An ad that you used after A/B split testing
• A contest form on your site
• A dedicated e-zine issue about one of your affiliate products
• The release of your e-book


Follow your plan, steadily and surely.

Monetization, if done properly, is not about adding a pile of affiliate links and a ton of AdSense ads all over the place. Think it through. Remember your visitor's experience. Although you are building your business to generate revenue, monetization is a careful, deliberate, and delicate process.

Keep two prime considerations in mind while monetizing...
• Get into the mindset of your visitor. Match the unique needs of your audience to the most ideal products and solutions.
• Do not jeopardize the goodwill (i.e., the PREselling) that your customer-focused content is building.


You want to please most of your visitors, not all of them. You may receive a few complaints about ads or other monetization options that you offer.

As long as they are few and far between, ignore them. They are a sign that your balance is right. The complainers will never be customers, merely greedy, cynical freebie-hunters. Don't take them seriously or personally.

Effective monetizing is a constantly evolving process. Periodically evaluate your monetization strategies to ensure that you are still in sync with the needs of your target audience.

If you started to use the Get Google $ tool to determine if there was some income potential from placing AdSense ads on your pages, now you can re-use this tool to verify which keywords from your MKL are earning you money at Google AdSense and use it to find highly monetizable keywords that you may have overlooked so far, or new ones in your niche.

It's really easy to fall into the trap of "social and content." It's fun, simple and essential. But once you have built a large site and are receiving hundreds of visitors per day, it's wrong not to spend 1/3 of your time, at least, on monetization.

Well, that's it. The end of our last chapter of the course – on monetizing from your online business. The end, but just the beginning of the rest of your business! Never stop learning, executing, testing, tracking, and improving. So What's The Secret to Lasting Success? SBI! does not remove the need for hard work. But it does allow you to apply 100% of your time to building a business.

And hard work does not mean 40 or 20 or even 10 hours per week. You can do this on one hour per week. It just takes longer, that's all. "Hard work" is about consistency and getting it done, whatever your time budget may be.

Ultimately, it all comes down to perseverance. It's the single most common "must-have" on the road to success. Do you know why persistence wins? Because "defeat" only happens when you make the decision to stop trying.

Determination works. Commit now to succeed. Decide now to accept nothing less. Steady forward motion, even if it's just a step per week, gets you there. So keep moving, even if it's only a small distance some weeks.

Only those willing to bring their Brain, Attitude and Motivation to succeed (BAM) will be the ones to reap the riches and independence the Web offers. Life and business have always been that way.

Now and at any point in the future, when you'll need to review the topics we've discussed during this course, you know where to return. Either use the website design lessons archive, or even better, commit to the SBI! System and give yourself access to ALL the facilities that come with it. You will never look back – that's a promise!
---
Game of the Week ~ Compare
---

This is a fun way of practising comparatives. You'll be presented with a phrase with one or more blanks in it and you need to click on the correct words to complete it correctly.

Let's dig in! Compare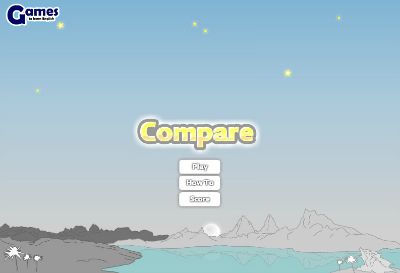 It is indeed very easy, but if you need to read the instructions before you play, just click on the 'How to' button and you'll have them in a straightforward manner.

Note that your timer ticks your seconds from the moment you get the choice of words on the screen. Each game you have 30 seconds tops and the new sentence shows once you've completed the previous one correctly.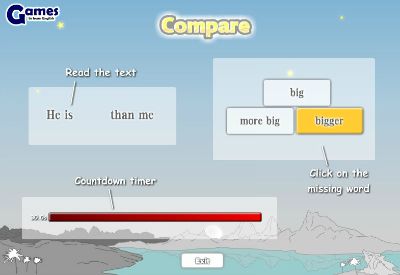 OK, so the game starts with a few easy examples, in which you only need to select the right adjective:



However, after a while, you'll have to also select your verbs, then your adjectives…



… then your prepositions…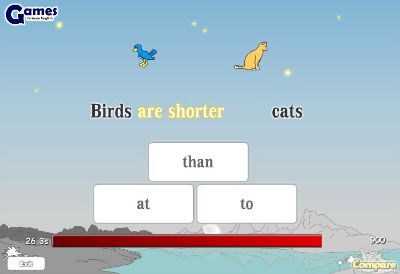 … until eventually you need to select the correct words for the whole sentence, hence create your sentences according to the pictures on the screen. All this, within 30 seconds, so you need to concentrate quite a bit for this game!



At the end, you'll be faced with a list of the scores that you and other people using this system to learn and practise the comparative have achieved to-date. As you can see, this can be treated as an international competition which makes it more fun, depending.



OK, now go ahead and play the Compare game... Practise your comparison lesson from above and have fun!
---
This is it for now, my friends!
---
I hope you find this information useful and not too confusing. Even though you're at the stage of building on it, have patience at this point in your learning and you'll be able to reap the fruit of your work later on, whichever aspect of our lessons you are concentrating on.

Please feel free to comment and suggest your ideas by replying to this email - I look forward to hearing from you. If you wish to chat either with me or with other members worldwide, go to My English Club .

At the end of August autumn dawns on us again, school begins and hopefully you're ready for a new year of hard work. I wish you reach top achievements in all your endeavours once again. Share some with us when you have a minute.


All the best from me until next time,

Lucia da Vinci

Founder of My English Club
---