Hello,


---
Greetings and General Information
---
A warm welcome to our new subscribers! Quite a few of you were already members of My English Club, but not subscribers of our weekly e-zine, so I am extremely happy to see you are now starting to benefit from this source of information on our lessons. In addition, it does help a lot with navigation around the website.

I wish you will find My English Club fun and instructive and I look forward to welcome you as a new valued member soon. Read, learn and communicate around the world!

You and your friends can always subscribe individually through the form on My English Club . If anybody mentions to you that they are interested in receiving it, please tell them this, with thanks. Of course, you can also unsubscribe at any point, by using the link at the end of any issue of the e-zine, should you wish - no questions asked.
---
Announcements and Communications
---
My friends, we are celebrating our 100th issue today! I do hope you find it as useful as you did back in time, when we were having our classes together. Either way, let's celebrate together!
Happy 100th Anniversary!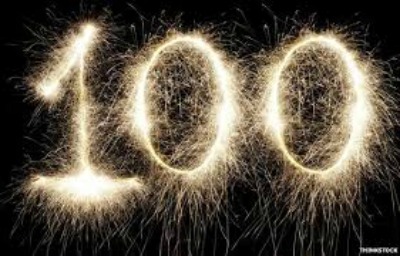 You may be aware that I have been preparing to improve My English Club website since the end of last year, by implementing some new software that would allow me to write more interactive and more beautiful lessons for you and to spice up our content in general. The priority so far has been on building more content, preparing the website for optimization.

I wanted to surprise you with the improved interactive lessons around the time of our anniversary of 100 issues of the e-zine, but unfortunately I couldn't secure the software so far. The plan to develop the site and optimize it ultimately continues - only I'm not sure how long it will take until I can purchase the software. Everything I found so far applies more to big corporations; however, I shall carry on looking for online solutions.

There is one way though, for improving the contents of this website and that is simply BY TAKING INTO ACCOUNT YOUR NEEDS for studying and practising. So far, the topics for the e-zine were mostly dictated by the needs of my classroom students, like we shared the social classes we had at Web Suzhou and then the grammar, reading and writing classes I used with my students in Saudi Arabia. But now that I am not teaching those methods, I'd rather respond to some of your needs instead of just choosing subjects randomly out of a had.

I hope you have the feeling that you have received some valuable information through our e-zine and the website in general, for you to send some good information back to me. All I need from you is some communication about what would be helpful to you. What are you struggling with, which topics have you not mastered yet, what are some of your curiosities?

To make it easier for you, I shall add some questionnaires to the website and design it in a more interactive format by the time of our anniversary in a couple of weeks' time.

Many thanks in advance, for your collaboration. Both you and I will soon see the benefits of this - that's a promise!
---
Until I'll have the time to write my e-books from these courses, you can enjoy our past lessons for free, as follows:

Archive of all the back issues

Pronunciation Lessons

Reading Lessons

Writing Lessons

Grammar Lessons

Website Design Lessons



---
Grammar ~ Expressing Restriction
---

After our lesson on exception, I wrote a note on the present matter today, to carry on with our lessons on expressing ourselves in various situations. Please find this lesson on the Expressing Restriction page. Enjoy studying this point and please practise it frequently! You can also find this topic on the Pre-communicative Practice page, in case you didn't know about this index of communicative grammar concepts.


---
Writing ~ Syntax for Writing
---

We have finished our set of lessons on the three figures of speech, and are turning our attention to syntax today. This is a rather complicated part of grammar, but we shall only touch on the surface, so you can't say you are unaware of this. Please find this lesson on the Syntax page. I hope you find it useful - there's more to come on this matter.


---
English for Travelling ~ Activities for Kids
---

For today, I added a few examples of activities that a visitor with children could do in London, together with a form which you can use to write your own information about activities we might consider in your country. Please find it on the Activities for Kids page.

I wonder if you are starting by now to think about making pen pals with whom you could practise some of the English you're spending so much effort to learn. Please let me know. Better still, write back and contribute to these pages - they are after all, yours to enjoy together.


---
This is it for now, my friends!
---
I hope you find this information useful and not too confusing. Even though you're at the stage of building on it, have patience at this point in your learning and you'll be able to reap the fruit of your work later on, whichever aspect of our lessons you are concentrating on.

Please feel free to comment and suggest your ideas by replying to this email - I look forward to hearing from you. If you wish to chat either with me or with other members worldwide, go to My English Club .

All the best from me until next time,


Lucia da Vinci

Founder of My English Club
---