Hello,


---
Greetings and General Information
---
A warm welcome to our new subscribers! I wish you will find My English Club fun and instructive and I look forward to welcome you as a new valued member soon. Read, learn and communicate around the world! Well done to those of you who sent in your answers to our last exercise - you've got it right.

Please feel free to contribute to these pages when you have a minute. They are meant to be a platform for exchanging ideas, stories and opinions - an ideal medium for practicing your English, which should be used to the full. Together, let's bring it alive, let's make it the welcoming community you wished for, when you joined. Use the Comments facility at the end of every page and start making friends worldwide.

You and your friends can always subscribe individually through the form on My English Club . If anybody mentions to you that they are interested in receiving it, please tell them this, with thanks. Of course, you can also unsubscribe at any point, by using the link at the end of any issue of the e-zine, should you wish - no questions asked.

Until I'll have the time to write my e-books from these courses, you can enjoy our past lessons for free, as follows:

Archive of all the back issues

Pronunciation Lessons

Reading Lessons

Writing Lessons

Grammar Lessons

Website Design Lessons



---
Grammar ~ Restrictive and Non-Restrictive Meaning
---

Today I prepared a rather long lesson for you, but we shall return to our Conditional sentences next week. Unfortunately, I had my computer in for repairs during the Christmas season, so I couldn't follow in line with last week's idea. Please find the lesson on this topic outlined on the Restrictive and Non-Restrictive Meaning page. There is no exercise for this lesson, but I hope you find it useful in your English practice.


---
Writing ~ Adverbs and the Adverbial
---

The adverb, like the adjective can actually be expressed in the form of a word on its own, a phrase or even a clause. Today I prepared a lesson about this on Adverbs and the Adverbial page. Studying this topic will help you understand the similarities between the adverb and the adjective. I hope this will help you both in your creative writing attempts as well as with your homework and exam writing tasks.


---
Game of the Week ~ Sushi Spell
---

We have another promising game today, which you can find on the Sushi Spell page. This is a mini game to help you improve your spelling in English.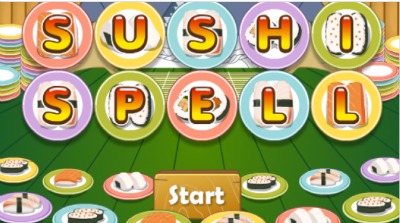 All you need to do is find as many words as you can within 2 minutes from the band of sushi letters scrolling in front of your eyes for the duration. You will note how some letters have different scores, depending on their frequency in normal words.



Here is how it goes. Please note that the words you can submit need to be of maximum 7 letters, otherwise you're wasting your time...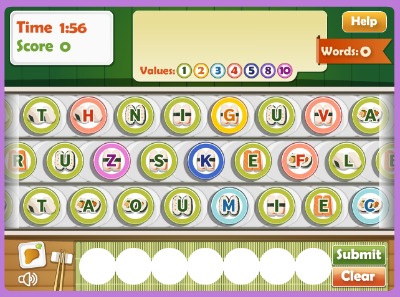 ... which is what happened to me here. I was trying to submit 'standing', hoping for a better score. Not only did I have to abandon it, I also lost precious seconds in the process!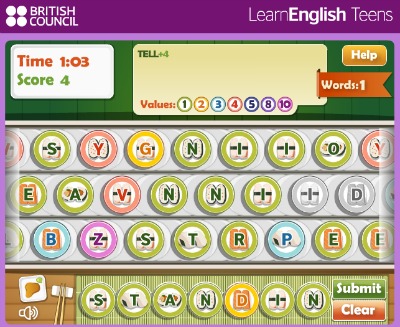 So, I go a little bit more clever the next time around... You see, this game will also help you with selecting long, bonus words for scrabble. It's not the same to have all the letters in front of you with having the limited selection of letters in a game of scrabble, I know... but it's good practice.



At the end you will get your score, together with the words you've submitted. I played a few games, as I found this game addictive, so don't be surprised if the words don't match with the ones above.



If you like this kind of mental gym, please try your patience on the Sushi Spell website. This game is for all levels - you will all find some interesting opportunities to submit some awesome words and practise spelling in the meanwhile. Good luck!
---
This is it for now, my friends!
---
I hope you find this information useful and not too confusing. Even though you're at the stage of building on it, have patience at this point in your learning and you'll be able to reap the fruit of your work later on, whichever aspect of our lessons you are concentrating on.

Please feel free to comment and suggest your ideas by replying to this email - I look forward to hearing from you. If you wish to chat either with me or with other members worldwide, go to My English Club .

All the best from me until next time,

Lucia da Vinci

Founder of My English Club
---